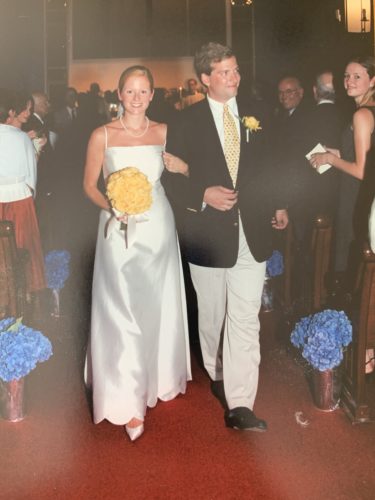 9/9/00, Marion, Massachusetts
Today is our 19th anniversary.  I've written about Matt on this day for many years, and I feel a little bit like there's nothing new to say.  In case you're curious and have a lot of time on your hands: 2018, 2017, 2016, 2015, 2014, 2013, 2012, 2011.
So, I'll try to capture the last nineteen years, which have been simultaneously and alternately a lifetime and a moment, in numbers.
20 – length of our wedding ceremony, in minutes
5 – the amount of time we'd been in the church when it started pouring, thundering, and lightning, in minutes
1 – number of houses we've lived in
18 – number of years we've lived here
6 – weeks we'd known each other when we planned a 2 month trip to Africa
5 – continents we've been to together
19,341 – highest elevation we've been to together, in feet (summit of Kilimanjaro)
2 – children we have welcomed
40 – length of Grace's labor, in hours
3 – length of Whit's labor, in hours
2 – fathers who died in the fall of 2017
6 – grandparents we have lost since we met
1 – number of times I have beaten you at tennis
lost track – number of times we've run together as the sun came up – best way to start the day
0 – number of times I've eaten shellfish since we've known each other
4 – number of books that we've both read and enjoyed in 20+ years (our tastes differ)
0 – number of minutes that I slept on our four flights between Boston and Bali for our honeymoon
0 – number of our duffel bags that arrived in Bali with us for said honeymoon
45 – number of minutes that you slept while I was in transition at the end of Grace's labor
6 – minutes per mile (you)
8.5 – minutes per mile (me)
2 – number of cars of ours that have been hit by tree branches falling in storms (one was totaled)
unlimited – how much I'm looking forward to the next 19