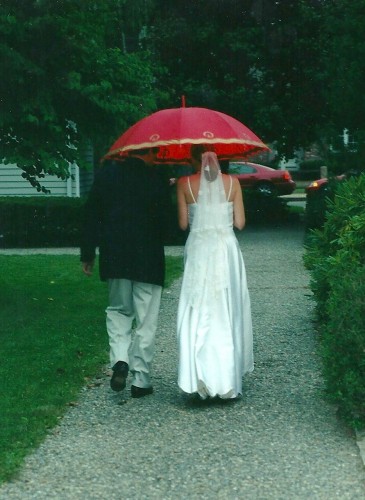 Eleven years ago, we were married.
In a thunderstorm so loud we had to pause during the vows.
Accompanied by two readings: an excerpt from The Book of Qualities and Cavafy's Ithaka.
By a minister from East Greenwich, RI, who was dear to my maternal grandparents, especially my grandmother who had recently died.
In the presence of three siblings, four parents, four grandparents, and most of our very best friends.
I wore my mother's veil, my deceased grandmother's wedding ring (my only grandparent not in physical attendance, though I swear she sent the thunder), a ponytail, and pieces of blue ribbon that my closest friends had written messages on sewn around the hem of my dress.
And we embarked on a ride which has been nothing like we expected, but full nonetheless of startling joys.  As the minister said, during the wedding, Kilimanjaro is nothing compared to this.  And it isn't.  But the views are better here, too.