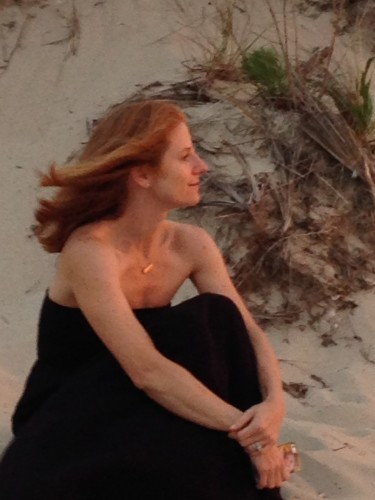 I AM A WOMAN, daughter, mother, sister, wife, friend, and writer. I am also a runner, a sometime yogi, a disillusioned MBA, a reformed nailbiter, and a proud natural redhead. I struggle mightily to find a coherent sense of self in all of these splintered identities.
My name is Lindsey Mead.  In my early thirties I began to feel a vague but persistent unease in my own life.  My life, which was exactly as I planned it, was nothing like I imagined.  This unease escalated to an intolerable pain.  I began to write about it here.
I grew up moving around every five years, which has left me with a contradictory combination of restlessness and a deep craving for stability. I've been to most of the countries in Europe and only about ten states. Home, though, has always been where I live now. This is where I was born and this is the place to which my family always returned. It is where I live now with my husband and two children.
I am troubled by my inability to live more presently, which makes me keenly sad about the passage of time. The way that my children mark the inexorable movement of time is something I find very difficult; this bittersweetness is sometimes almost unbearable.  The way they paradoxically both inhabit a the present with an undeniable stubbornness and trace time's swift passage brought me to my subject.
A Design So Vast was started in part to record some of both that struggle and the moments of incandescent joy or laughter that I don't want to forget. I write mostly about the challenge of truly inhabiting the moments of my life, the joys and difficulties of trying to be a mindful parent. I talk about my effort to find something to believe in and about my groping around the edges of my faith. I write about books I love, and the ways that stories and voices touch me. I hope you find something that speaks to you here.