Last week was spring break.  I've written before about how important it is to both Matt and me that Grace and Whit see the world. That impulse has driven us to Jerusalem, to Washington DC, to the Galapagos, and to Paris.  Last week it took us to the Grand Canyon and to Sedona, Arizona.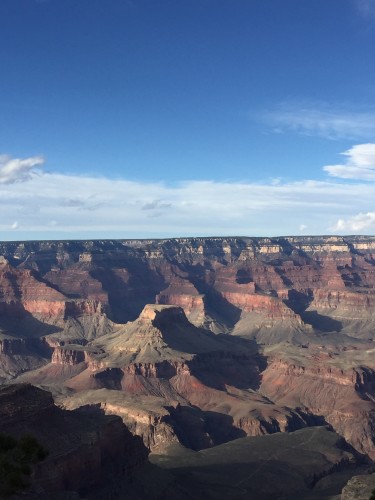 In the Grand Canyon we stayed at El Tovar, a historic hotel right on the canyon's south rim.  It was old and beautiful.  The first day after a long drive (pro tip: meclizine for motion sickness) we walked around the rim and ogled the outrageously beautiful canyon. It really is hard to fathom, in its enormity and its glory.
We had a drink and dinner in the El Tovar bar and dining room, overlooking the canyon as night fell.  The next morning we woke up early to go on a mule ride along the rim.  Our guide, Josiah, was absolutely phenomenal: full of both information and good humor, entertaining, energetic, competent. It was beautiful to see the canyon on mules, and we definitely got views that we would not have had otherwise.  Whit's mule was called Seymour, because he liked to get you nice and close the rim.  So you can see more, of course.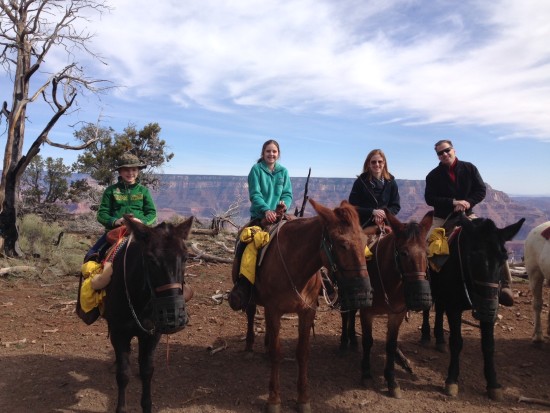 Then it was off to Sedona.  Several people told me that I would love Sedona, and they were right.  There is a tangible peace and holiness to the place.  I kept thinking of Barbara Brown Taylor's line from An Altar in the World that "earth is so thick with divine possibility that it is a wonder we can walk anywhere without cracking our shins on altars."  We stayed at the Enchantment, and the views from the pool, our room, and the restaurant (which happened to serve French cuisine) were all equally astonishing.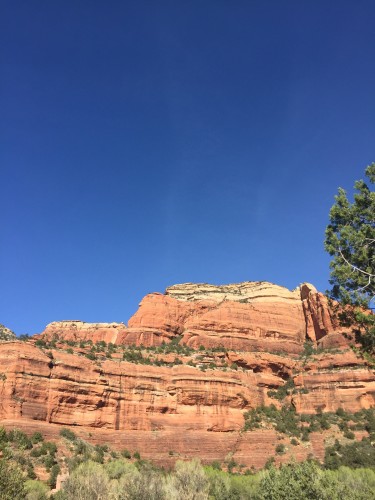 The red rocks, yes.  But also the blue sky!  Perfect, unbelievable blue, like I've never seen before.  We hiked, we hung out, we read books, we felt the energy vortex on the property.  At least Whit and I did.  I swear we did.  We did a few things we did that I'd really recommend.  The first and best known is a Pink Jeep Tour.  The driver (of an, indeed, pink jeep) took us way off-road into the national forest.  This afforded both some very exciting and bumpy riding and some breathtaking vistas.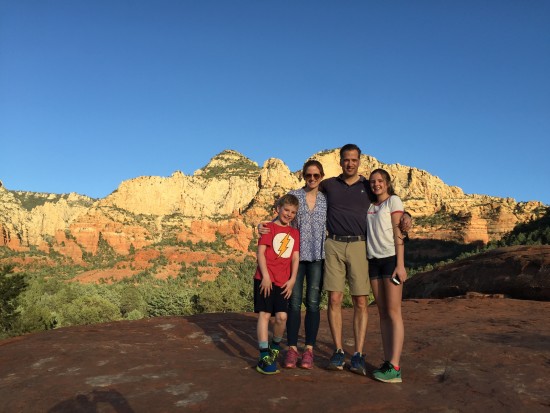 I am pretty sure that Grace will be taller than I am in 2016.  We also went out for an adventure with Catherine and Jef from Center Focus Adventures.  They were great.  We rock climbed and we white water kayaked.  Highly recommend.  Both Whit and Grace are incredibly inspired by rock climbing, and Matt and I loved watching them.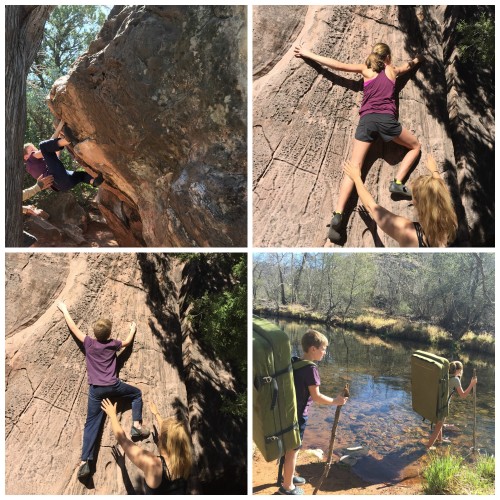 Finally, we went for a Cowboy Cookout at M Diamond Ranch.  This was a solid hour outside of Sedona, and I think because of that, it felt like we were the only people in the world.  We went for a ride (we were part of a group of 10) and then were driven to a beautiful spot at the top of a hill to watch sunset and enjoy steaks cooked on the grill while an older man sang country music.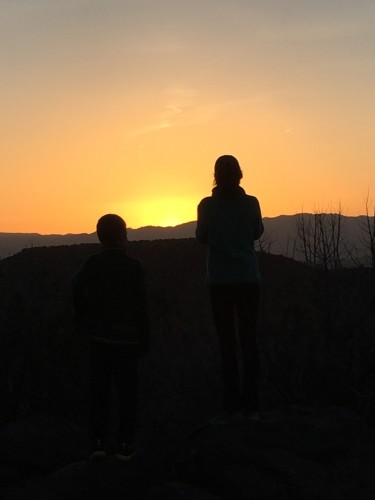 When we got home (on the redeye – everyone was a little bit luggage) I asked Matt, Grace, and Whit what their favorite part of our week was.  Everybody had a different answer.  That's the mark of a good vacation in my opinion.  This is a huge and gorgeous country we live in, and I am glad to be showing Grace and Whit corners of it that are far away from where we live.
Note: this is not a sponsored post and these are not affiliate links.  I was not compensated in any way for these links.  I just loved our trip and several people have asked for our itinerary, so I wanted to share it.  If anyone wants more information, please email me or leave a comment and I'll get in touch with you.