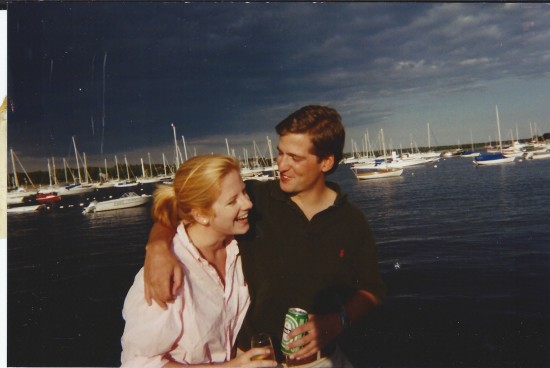 Today we've been married thirteen years.  Thirteen feels both not at all new and not yet very old.  In the middle.  Just like everything else right now, it seems: we are in life's rich, heavy, wonderful middle, which can be dark and disorienting but which is also shot through with dazzling, startling joys.
This photograph was taken in 1998, during the first summer that Matt and I knew each other.  I was 23 and he was 28.  It seems a lifetime ago.   We are standing in the same place that we celebrated our wedding two years later.  There are storm clouds on the horizon, but we're laughing.  This feels like a harbinger both of our wedding and of life in general.  Our wedding day dawned beautifully clear and sunny, but by the mid-afternoon clouds had begun to gather.  By the time my bridesmaids, mother, and I walked from our house to the church we were hurrying to get there before it rained.  By the time we were standing at the altar it was thundering so loudly that at one point we had to stop and wait for the noise to stop.  Matt and I walked to the yacht club under a bright red umbrella, and most of our guests rode the one-block distance on school buses.  And then, later, it cleared into a glorious night, full of the crystalline, beautiful skies and dry, tinged-with-cool air that always seem to follow a storm.
I couldn't have scripted better weather for that day.  I know now, fifteen years after this picture was taken, thirteen years into marriage.  Storms roll in, boats heave in the waves, sometimes you have to pause to let the thunder and lightning take center stage.  And then beautiful weather washes in, and an abiding calm.
We were married by a minister who was very familiar to me and beloved of my maternal grandparents.  It was an honor to have someone who knew both the two of us and my family perform such an essential and important act.  In his sermon, he honored my grandmother who had recently died (I think the thunder may have been her telling us she was there, though she was not a thunderous person) and celebrated the spirit of adventure that had marked our early days together.  But, he exhorted of marriage, "Kilimanjaro is nothing compared to this."  And how right he was.  It's been steeper and more difficult than I imagined, the landscape more variable and sometimes treacherous, the nights shorter and the hours longer.  But I wouldn't want anyone else climbing next to me.  And the views are far more breathtaking.
Happy thirteen years, Matt.  I'm still amazed.