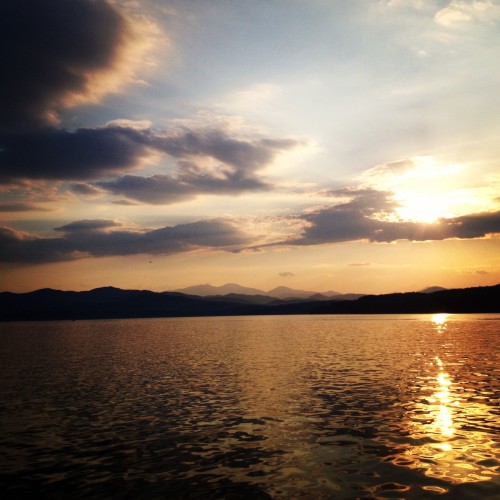 Spring is the only season that I experience without an undercurrent of sorrow, because there is so much that lies ahead, but it is in summer that I feel I most fully live.  In June, July, and August, life is swollen with family moments, studded with the rituals that have come to mean so much to my children, and lit with bursts of fireworks both real and figurative.  For the last few years I've reflected on the summer that was: 2012, 2011, 2010, 2009.
In late August, I kept hearing Sophocles' words, over and over again in my head: one must wait until the evening to see how splendid the day has been.  And that is true of this most marvelous, rich, joyful season, too: it is really after Labor Day that I can really see how extravagantly wonderful our summer was.
This summer went by faster than ever.  Oh, what a cliche this is.  And yet it is so true.
In June, for the fourth year, Grace, Whit and I marked the end of the school year with a trip to Storyland.  Their mild agreement that perhaps they were getting too old for Storyland turned by the end of the day into stringent pleading to promise we could come back.  They love our tradition and so do I.
The weekend at the end of June that we spent with Hilary and her family was so humid that my computer shut itself down.  But it was wonderful nonetheless: swinging on swings over a big muddy puddle of rainwater, my father blowing out candles surrounded by his found grandchildren, those children lined up on the edge of Brea as we sailed, four feet dangling towards the splashing water.
Our hydrangea bush exploded into glorious bloom.  Once again I was reminded of the metaphors that are all around us: by late July I had to cut hundreds of past-their-prime blooms in hopes that we might get another round of new flowers.
We spent the Fourth of July with Matt's family in Vermont.  The children loved being with their cousins.  Later in July we went to Legoland for the fourth time.  This is an extravagant tradition, to be sure, and maybe a silly one, but I can't express the pure joy that descends on all three of us the minute we walk out of the airport in California.  I have no doubt that the three days in July we spent at Legoland will be among my most cherished of this entire year.
Coming home was hard, but we had a short but sweet visit with Whit's godmother, my dear friend Gloria, to look forward to.  She came through on her way from Maine to Beijing, we all remembered how fiercely we adore this friend of my heart that I've known for 23 years.
Grace and Whit both went to sleepaway camp.  For the first time in 10 1/2 years Matt and I were alone for 10 days.  Saying goodbye was hard, mostly because of the reflection that it forced on time's heartbreakingly swift passage.  Then, in August we had two weeks alone with Whit.  I spent my birthday with one of my oldest and dearest friends, at the place where we met and where our daughters how flourish.  It was marvelous.
We spent a week by Lake Champlain as a family, for the fifth year in a row, and it was pure magic.  Grace and Whit love it there, and Matt and I do too.  We swam and ran and water skiied and laughed.  The vacation, just like the end of August time that holds it, was tinged by end-of-summer pathos.
I read All That Is and A Sport and a Pastime by James Salter, The Engagements by Courtney Sullivan, The Interestings by Meg Wolitzer, Sisterland by Curtis Sittenfeld, Blood, Bones, and Butter by Gabrielle Hamilton, Still Writing by Dani Shapiro, Early Decision by Lacy Crawford, Ready for Air by Kate Hopper, Looking for Palestine by Najla Said, & Sons by David Gilbert.  I spent long hours revisiting some of my favorite poetry books.
Grace and I were deep in Harry Potter 7 while Whit and I were on 4.  They both remain entranced by Harry's world.  Grace and I read Little Women at the same time in August: she marked the pages she read before bed and then left the book for me, and I'd read the same passage.  The next day we talked about it.  We read A Wrinkle In Time (my favorite book from childhood) the same way last year.
We managed to fit some of our favorite rituals into the last week of the summer.  We went to the beach for an end-of-summer day, we swam at Walden Pond, we visited the tower nearby and built stone cairns near the fairy stream.  We spent Labor Day in town for a change, because Grace had a soccer tournament.  It was calm, mellow, and surprisingly wonderful.
There was plenty of yelling and exhaustion and feeling overwhelmed by all kind of small things.  And I've already forgotten those moments, as the summer slides into memory, crystalline, shimmering.  And how I miss it, already.