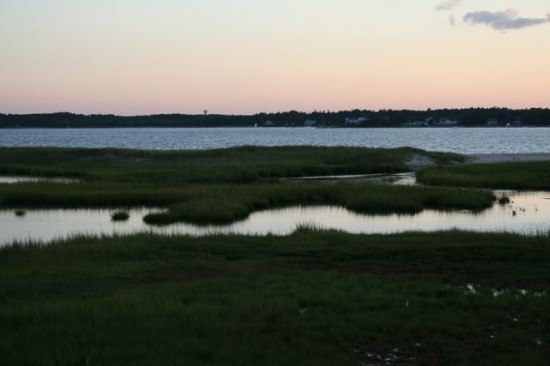 I'm late with this year's end-of-summer post, but I've been sifting through the richness of the last few months, feeling the happy and the heavy memories drift through my fingers, parsing what it is that rises to the top.
I re-read my reflections on the summer of 2009 and was struck, predictably, I guess, by the feeling that they were written ages ago and also yesterday.
This summer was many things … most of all, different from the rest of my life, an interlude between two more standard realities, a carved-out three months where I spent more time than I ever have with Grace and Whit.
I read almost nothing this summer. I didn't feel like reading books, on the whole, which is unusual for me. What I felt like reading, intensely, and over and over, was Mary Oliver's poetry. And so I did. I even listened to her reading (thank you, Katrina, for the suggestion) her own poems as I drove down to see Dani Shapiro at Aidan's Happier Hour event in July.
Mary's words, spoken and read, called to me all summer long. I'm not exactly sure why, but I'm listening.
I spent a lot of time this summer driving with Grace and Whit, often singing along at the top of our lungs to Top 40 songs. One Saturday morning as we drove up to see Hadley and her family, the kids and I were listening to a top 20 countdown. We had a debate going on about what song would be number one. We dashed into a rest stop bathroom during the commercial break before #1 and ran back out just in time to catch the first notes of California Gurls. I'll never forget the sheer joy on the kids' faces as they collapsed into their carseats, giggling, the fact that something so small could make them so happy.
Many, many times this summer, enough that I'm paying attention, I turned on the car radio to hear Let It Be. Okay. I'm trying.
I am homesick for my trip to LEGOland with the kids. Those four magical days only grow more burnished as I move away from them. Grace and Whit were absolutely enchanted with the idea of a mom who did such spontaneous and downright fun things. This translated into their being absolutely delightful to be around: cheerful, agreeable, and charmingly wide-eyed at everything they saw. I am so grateful that I planned and took that trip, and the fact that it was a last-minute idea makes me even gladder. How uncharacteristic. I wonder if I can carry some of that enthusiasm, flexibility, and sheer joy into this new phase of my life. I hope so.
Running through my head the past few days has been this quote, which I think perfectly captures the photograph above:
One must wait until the evening to see how splendid the day has been.
– Sophocles