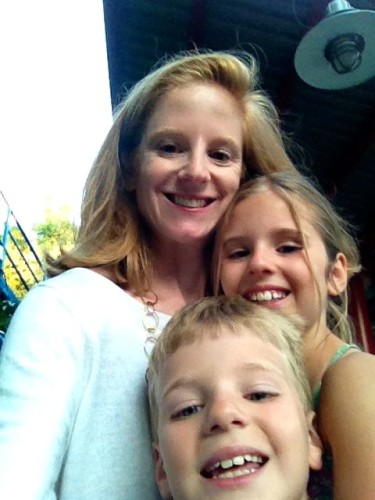 The slipstream of time rushes by, ever faster, and I'm powerless to do anything but float in it.  Even last week in Legoland, where I am as present and engaged and happy as at any other time in my life, I was aware of watching the minutes tumble through my fingers, of hearing the hours whistle past my ears.
Time in the summer is simultaneously accelerated and lumbering.  The pace of life feels slowed, yes, without homework and practices and with many of our friends away.  But the events we've so looked forward to all year fly past, and Whit more than once has been in floods of tears at bedtime that something is over.  "But Mummy!" he will hiccup, face wet, "It's over.  Maybe we shouldn't go to Storyland (see also: Vermont, Legoland, Basin Harbor, camp) because it's so sad when it's over."
I never know how to respond in those moments.  They trigger in me such a complicated mess of emotions.  There's familiarity, because I feel the exact same way.  There's guilt, because his predilection towards that kind of sorrow and sensitivity comes straight from me.  There's frustration that I don't know how to soothe his angst.  All these feelings twine together around my heart and I feel an ache that's sometimes so overwhelming I can't fully articulate it.
I could find pathos anywhere.  I see it even in summer's highest moment, when there are popsicles and laughter and fireworks and light that goes on forever.  By mid July I'm aware of the days getting shorter, of the gradual but undeniable creep of dark, of a faint sensation of fall already, even under all that summer.  I wish I wasn't so attuned to this, but I don't know how not to see and feel it.  This is part of the reality to which I am waking.  It is, isn't it, how Virginia Woolf described the beauty of the world: as having "two edges, one of laughter, one of anguish, cutting the heart asunder."
As we left Legoland I told a tearful Whit and Grace my perspective on this pain, of endings and of things being over: this is just part of the deal. We are sad in direct proportion to our joy.  The words are entirely insufficient but they are also all I have.  And once they were distracted on the plane with an ipad that my mother had lent us and their books, I leaned back against the headrest and let the sorrow of something ending sweep over me.  My eyes filled with tears, as they had over and over again throughout our three magic days at Legoland.  I tell myself what I told Grace and Whit, that this is just how it goes, that if I wasn't so happy then I wouldn't be so sad now (I think always of the line from Shadowlands that the pain now is part of the happiness then).  In that moment, it felt like small solace as loss – of another week, another year! – throbbed through me.  But it's also true.