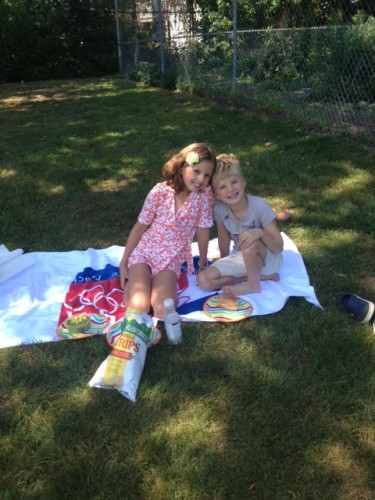 We got home from our marvelous week in Vermont on a Saturday evening.  Everybody was exhausted and deflated.  The end August loomed, and the big summer things we'd been looking forward to were all behind us.  On Sunday, Matt had to go to work, so Grace, Whit, and I were left with an open day.  We did some errands in the morning, moving slowly, sinking back into regular life.  It was a glorious, outrageously perfect late-summer day.  I suggested a picnic in the park that is three blocks from us.
Grace and Whit responded with enthusiasm.  We packed turkey sandwiches, some goldfish, some tortilla chips and guacamole, and water.  They threw a frisbee for a while and I watched them in the almost-deserted park.  I could sense Grace's month-old self snuggled in her blue Patagonia fleece one-piece, asleep in my arms as we took our first Christmas card as a family on the rise over to my right.  I could see both of their four year old bodies running in their first soccer games on chilly fall Saturday mornings, smiling as I remembered how often the parental cheering consisted "Wrong way!  Other goal!"  I could hear their pealing laughter as they made snowmen in the enormous, untouched drifts of snow in last winter's blizzard.
After a bit they came to sit next to me on our towel.  We ate our sandwiches in the shade and in silence, and after a few minutes Whit sighed, "Oh, this is nice."
"It really is, isn't it?"
I'm not sure how, but we started talking about facing fears.  We talked about fears we had surmounted, and what we were still afraid of.  We all shared stories.  It was a rare half hour of perfect peace and happy equanimity.  After we finished our lunch we sat for a bit longer, noticing things in the fenced-off city garden plots next to us.  Grace tilted her head back to watch an airplane streak across the sky, pointing up at it, mouth open.  Then we packed up our trash and our towel and headed for home.
I am rarely prouder of my children than when they enjoy small moments like this.  I honestly think this might be (one of) the key(s) to happiness: finding joy in the most mundane things.  It's also an outright goal of mine as a parent, trying to make the ordinary special, trying to shape a memory out of a regular old day (even knowing as I do that we can't always control which moments coalesce into the pearls strung on life's chain).  The day after the picnic, I left my desk an hour early to take the children to our beloved fairy stream, where we worked in companionable quiet for a long time building cairns.  It was spontaneous, it was something we do all the time, but despite that – or maybe because of it – it was an exceptional experience.
How can I protect Grace and Whit's propensity for joy and their orientation towards wonder?  How can I keep them from becoming jaded in a world that leans towards cynicism so early, so quickly, and so finally?  How can I help them continue to find the white lines of exhaust from an airplane across a hydrangea blue sky or the quiet stacking of small rocks at a bubbling fairy stream things worthy of their time, their attention, and, sometimes, their awe?
I don't know, but I am pretty sure this is the thing I most want to do for my children.