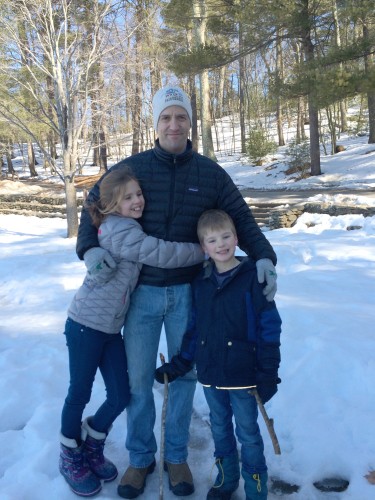 Right now I feel swamped by gratitude.  For many years, I've thought at least daily of Meister Eckhart's assertion that "if the only prayer you ever say in your life is thank you, that would suffice."  I could not agree with that more, and I'm equally certain that the world would be a better place if we expressed those thanks more often.
So, on the occasion of your birthday, Matt, the 17th we've celebrated together, thank you.
Thank you.
Thank you for…
All the ways in which you are an extraordinary father to Grace and Whit.  For your contribution to 50% of their genes (well more than 50% if you consider how they both look).  As you can see below, based on the cover of Whit's journal, I think you're doing okay, though you need to watch out for Legoland.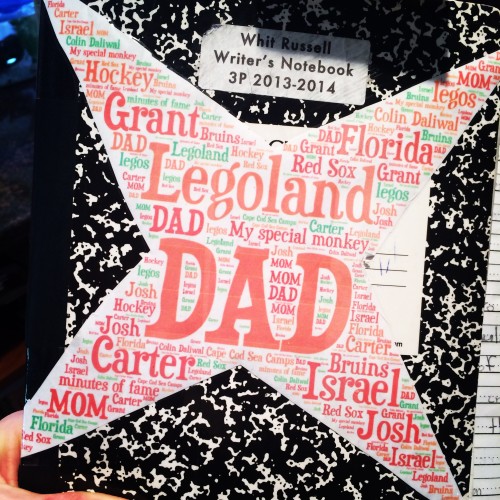 For your loving, prodding, affectionate-yet-inspiring shepherding of Grace and Whit's athletics.  I didn't ever play team sports so I didn't know how very much there was to learn from them.  I'm so glad you did (both play and know).
For the way you're learning, as I am, to parent the children we have.
For always letting me go running first in the morning, because you know I have a touchy stomach and need to go as soon as I get up.
For making me the perfect cup of coffee (coconut milk, 2 minutes in the microwave, coconut sugar) and bringing it to me in bed.
For the blue hydrangea bushes in the front yard that you sometimes tend (though that left one is looking pretty sad this year).
For letting me talk you into going on family adventures – Jerusalem and the Galapagos in particular – and for so thoroughly loving the experiences the four of us had.  I view these as a continuation of our first great adventure, to Africa, in 1998, only a few months after we met.  The picture below, from that trip, is one of my all-time favorites.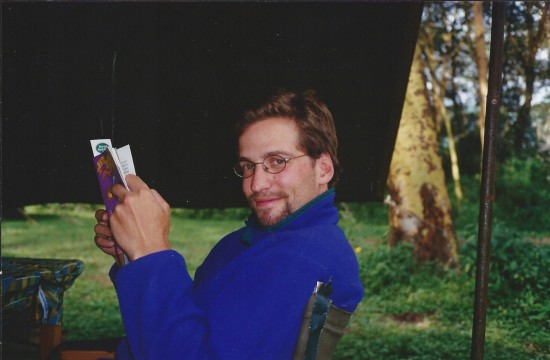 For reading this blog, and for telling me what you think about it.
For that one time you surprised me at the airport with yellow roses and blue hydrangeas, out of the blue.  You can do that again any time you want.
For dancing with me to Maybe I'm Amazed for our first dance and to Into the Mystic for our last at our wedding reception, and for all the times you've danced with me since.  Even though you say dancing with me is like driving a truck.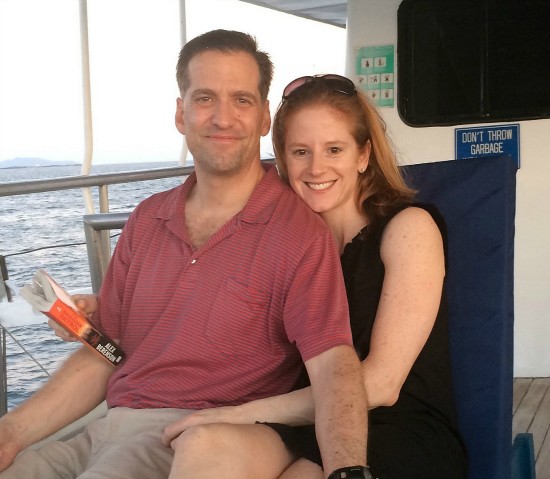 For tolerating my unwavering idiocy in all professional sports-related matters, and for not starting a Twitter account, as you've threatened, with the sole purpose of tweeting the stupid things I say.  ("Who's throwing out the first pitch?" for the Bruins game, or "which inning is it?" during a Patriots game, for example)
For that one time, years ago, when we were driving somewhere and I was in a blackly cranky mood.  "You're in a bad mood," you observed off-handedly, looking through the windshield.  "And that's okay."  Thanks for that.  I hope it's still okay (and not too often).
Happy birthday, Matt.  I love you. 
I don't write about Matt a lot, as you've surely noticed, but for the last several years I've written to him on his birthday: 2013, 2012, 2011, 2010.