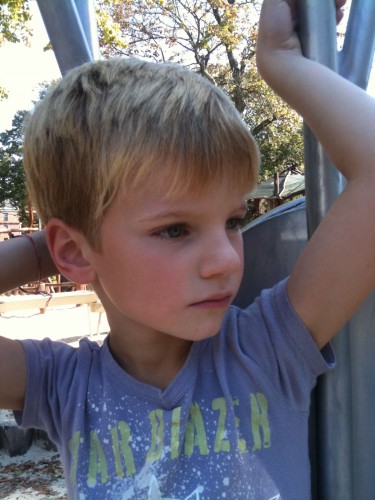 Both Grace and Whit recite the standard "now I lay me down to sleep …" prayer before bed.  They usually add on some sentences which always, without exception, are a litany of "thank you"s.  I have not coached them here.  After all, as I've shared, Grace and Whit are the people who taught me that praying is saying thank you.
Last week I tucked Whit in and in the nightlight dim I asked him if he wanted to say his prayers.  He looked up at me, clutching Beloved Monkey, and nodded.  I looked at him expectantly.
"Thank you," he said.
"Prayers, Whit?" I prodded in a whisper.
"Thank you.  Just, thank you."  I smiled at him and felt my eyes fill with tears.
Meister Eckhart, of course, famously said it best: "If the only prayer you ever say in your whole life is "thank you," that would suffice."
And "thank you" were my grandfather's last words to my grandmother, as she died, in 1997.  My family, those who came before and those who come after, two men who will never know each other yet are bound by shared bloodlines, both coming to the same conclusion.  I left Whit's room and sat at my desk and cried and cried.  How can you be sorrowful and grateful at the same time?  I was.  In fact, I often am.
Thank you.