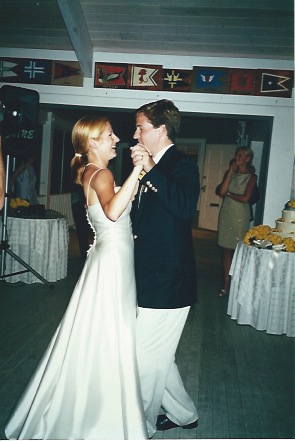 When Matt and I got married, a hundred years ago, I didn't overly obsess about most of the wedding details (as you can see, I wore a ponytail and my dress was a sundress, notable only for the fact that it had a scalloped hem).  The only things I really cared about were the songs and the readings.  I cared a lot – agonized, even – about choosing readings for the service and also about our first dance song.  Our readings were two: Cavafy's Ithaka, and an excerpt from The Book of Qualities.  Our first dance was to Maybe I'm Amazed by Paul McCartney and the last song we danced to before we left, on a small boat into the dark harbor, was Van Morrison's Into the Mystic.
I thought of this yesterday when I was driving and Maybe I'm Amazed came on the radio.  This doesn't happen much – the song that Paul McCartney wrote for his wife Linda, while lovely, isn't exactly on constant repeat on Kiss 108.  I chose it, as is often the case when it comes to my musical attachments, for the lyrics.  But really, when I read the lyrics now, I think I chose it for the title.
Maybe I'm amazed.
I couldn't help thinking, as I drove, the setting sun chasing me home along the Mass Pike, that some part of the 25 year old me knew this would be, in many ways, the anthem of my life.  It's definitely no understatement to say that I have been startled, and continue to be, by how much flat-out amazement my experience contains.  This life amazes me every single day, with its surprising beauty, with its stunning pain, with its lingering grief, with its enduring sturdiness.  Of course I was thinking of my marriage, and my soon-to-be-husband when I chose Paul McCartney's somewhat random song, but I think I also knew I was thinking of my life.
Of course Into the Mystic hits the same note, too.  That's what this life, is after all, isn't it?  A journey into the mystic, into a dark harbor, into a world lit by sputtering sparklers who consume themselves as they burn brightly, by fireworks whose flare leaves an imprint in the sky even after it fades.  I am so often hard on my younger self, focus so resolutely on all the poor choices I made and things I did not do well enough.  It is a welcome change to recognize that even in that young, impressionable bride there was a flicker of the future, an awareness of the themes that would come to define both my marriage and, most of all, my life.
Are there specific memories, or choices, in your life like this?  Places you can see the future glinting in the present, even if it takes retrospect to really understand what those flashes were?  And if you're married, what song did you dance your first dance to?