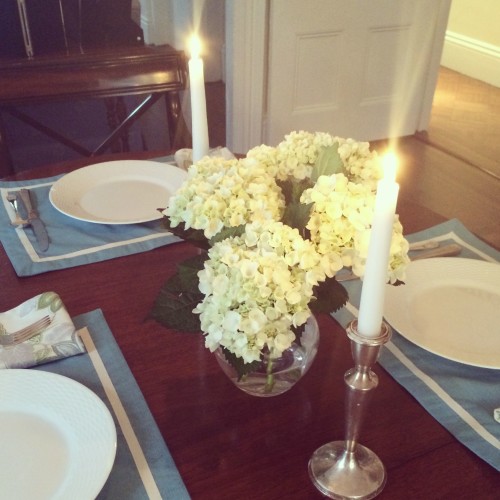 We have family dinner a few nights a week.  Sunday, always, without variation.  And usually one or two other nights a week.  Understanding as I do how crucial family dinner is to happy, well-adjusted children, I feel guilt about this.  I wish we sat down more often.  But we do it when we can, and what continues to surprise and delight me is how much both Grace and Whit love it when we have family dinner.  "Are we having family dinner?" one of them will ask, breathlessly, if they see me setting the dining room table.  We always have family dinner in the dining room.  We always have candles, and usually flowers.  And I love family dinner.  There are lots of reasons why, but here are some:
Compliments.  Grace started a tradition years ago which has stuck, and which I love.  At dinner each of us says "compliments" which really are specific thanks to each family members. We take turns thanking each member of the family for specific things they did that we noticed and appreciated over the past day or two.  We do this without fail when we all sit down together, and I absolutely love it.
Using the silver.  I learned this from my mother, who always believed in using the silver (and still does).  I do too (we have the same silver pattern, incidentally).  Part of what makes this doable is that I put my silver in the dishwasher without hesitation.  And Kathryn introduced me to silver polish wipes recently, which changed my life.
Cheers. We always cheers at the start of dinner, and the sight of the four glasses, three water and one milk, always makes me smile.
There's usually some yelling, "Grace!  We're waiting for you!" or "Whit!  Anytime now!" but once we're all seated, before we begin, we cheers as a family.
A sense of celebration. There's something about setting the table, lighting candles, and sitting down together, without books or electronics, that I fiercely love.  It's a way of celebrating this ordinary life, of pausing in the slipstream of life to note how rich it is, if head-spinningly fast-moving.  It's the practice of being grateful for the poem.
Traditions are important to me, and this is one that has become a backbone of our family life.  I dearly hope that Grace and Whit will grow up remembering family dinner, and seeing each others' faces in the glow of candles, and taking the time to think of and articulate specific things we are grateful for about each other.
Do you have family dinner?  Or other family traditions that mark everyday life and that matter a lot to you?  I'd love to hear about them.