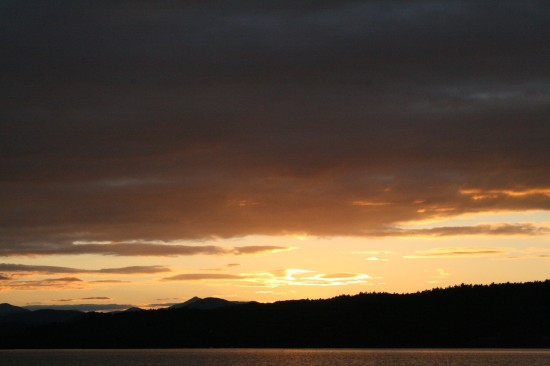 Yesterday was the summer solstice.  I've written before of how important the solstice is to me.  For all the years of my life my parents have hosted a party from 9 to midnight on the night of December 21st (awesome when it's a Thursday, less awesome when it's a Sunday).  As midnight nears, a friend, the co-host, leads us in an ancient Mayan ceremony to welcome the light back.  This tradition gives me goosebumps every single time I experience it, and a huge room full of people holding candles does seem to ward off winter's intense darkness for at least an evening.
I am fiercely attached to the winter solstice.  Not so the summer solstice.  In fact, I find it a little sad.  It marks, after all, the slow rotation back towards darkness.  As of today, the days are getting shorter again.  I know, I know: buzzkill.  Believe me, if I could somehow change this orientation of mine, this way I lean always towards melancholy, I would.
I am often preemptively sad, well before I need to be.  And yes, this can cloud the brightness of even the most luminous moments.  Why on earth can't I just relax into right now, these swollen days of both sunshine and sunlight, these happy children, this relative ease?  I don't know, and I hate that I can't.  I am simply too aware of the shadow behind that swollenness, too achingly conscious of the turning of the earth, of the hovering darkness on the horizon.
Often I am jealous of those who can walk through this world without being so regularly brought to their knees by both its grandeur and its heartbreak.  I wish – desperately, wholly, wildly – that I could just sit and enjoy a day of my life.  One day.  I wish I could sit by a pool, giggling at my children jumping off a diving board, a glass of white wine in my hand and a dear friend at my side.  And if you were at that pool, that's what you would see.  That's what it looks like from outside.  But inside there is an essential crack in my spirit that yawns open, more narrowly or more widely depending on the moment.  This crack – this wound – is always there.
I promise I'm not a hugely depressing person.  I'm not even depressed.  I've been there, believe me, and this isn't it.  I'm actually a fairly happy person.  A new friend (hi Jane!) who knew me here before she knew me in person even remarked that I was much funnier in person than she expected.  I try to keep my heartbreak to myself.  But the truth is that even on days like yesterday, a day as gorgeous and perfect a summer day as I can imagine, the longest day of the year, there is a kernel of sadness buried deep inside my experience that I can't ignore.
And there is still so much here I do not understand.  These are my favorite lines in Adrienne Rich's deeply moving poem that I publish every winter solstice.  No matter how much I struggle and think and unpack and write, there is still so much that is unclear to me, both within and without, so much that I find perplexing, sad, complicated.  What I am beginning to see that it is in these knots of tangled meaning that my life actually exists.  Certainly they are shot through with strands of radiant joy, that only revealed themselves once I started really paying attention.   I'm slowly realizing that my hope that someday I'll be sailing smoothly down some clearly-defined path is simply naive.
3 months ago I said this:  "I realize, again, fiercely, is that this is how I want to live:  in the right now of my life with a broken heart.  I want this, in full knowledge of the pain it carries, far more than I want to keep hiding from my life."  Reading this avowal is a reminder of something I do know, somewhere deep inside myself.  On a day like this when I want to simply enjoy, it is easy to forget these commitments I make, to myself, to my family, to those I love.  But I won't.  I will pull out my camera, take some pictures of this glorious day, of my alarmingly tall and lanky and funny and sad children, surrender to the knot of sadness that will gather in my heart as the sun sets, and acknowledge this is what it is to be me in this world.  It just is.