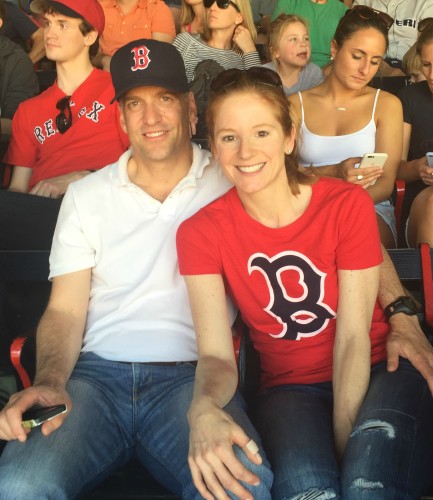 Twice a year, I write about this man.  Who is otherwise generally spared.  I have to protect some things, after all!  But today is his birthday, and on this and our anniversary, (9/9) I turn my lens onto him.
This is the 19th of your birthdays we've celebrated together, Matt.
The first one, I was heading to my sister's college graduation, and you drove me somewhere (I can't recall where) and told me you loved me for the first time as I left.  I'll never forget the butterflies and elation that filled me when I heard you say that.
The third, my sister-in-law and I surprised you and your twin with a party to celebrate 30.  You had pulled an all-nighter at work and were pretty exhausted.  I think you were happy, though.  We were months away from getting married.
The fifth, we had a small gathering at our then-new house.  My pregnancy belly popped, I swear, that morning.  The change was sufficiently marked that one of my friends walked in the door and noted that the baby had decided to show up on his or her father's birthday.
The eighth, we had another party with your twin and his family, this time at their home.  We had a baby at home, and a 2 year old, and I remember you thinking the college-aged bartender was very cute.  We have some rowdy photographs from that night.
The tenth, we celebrated with a dinner in the backyard of our house, and a small round cake with a single table candle in the middle.  A pigtailed Grace helped you blow that candle out.
The eleventh, we spent in Bermuda with your twin and his wife.  You two bought black knee socks and Bermuda shorts and wore them to one of the most delicious meals I have ever had.
The thirteenth, I surprised you again with a small dinner at one of our favorite restaurants with some of our most beloved friends.  It was a night I'll never forget.  We drank a lot of Matt & Stormy's.  There were toasts.  I wore orange.  You were happy.
The fifteenth, we spent with our dear family friends in New Hampshire, on a weekend that has become a cherished tradition.  We took an Olde Tyme photograph of all the children.  You blew out candles, alongside members of the other two families who share your birthday week.  Grace was in a sling with a broken collarbone.
The eighteenth, we were back in New Hampshire with the same friends.  We helped build a house.  We took another Olde Tyme photograph.  There was another cake with candles for three birthday people.  There were lilacs everywhere, and my memories are tinged with their smell.
This year the nineteenth, we'll celebrate with with Whit's baseball game, and, tomorrow, a family dinner.  I'll bake a cake.  It will be the most ordinary, and therefore, the most extraordinary.  As is every day.
Thank you for all the varied and marvelous roles you play in my life and those of Grace and Whit.  You are a thoughtful question-asker, an improving bed-maker (though still a sub-par laundry-folder), an excellent hockey coach, extremely handy around the house (proven this weekend with the stove saga), an enthusiastic married-in Princeton reunion-er, an avid reader infuriatingly resistant to my book recommendations, and a world-class maker of bacon, egg, and cheese sandwiches.  You are willing to curl into a bottom bunk to read, to encourage a child to go up a mast, to explain how a sport or technology works, to listen when I repeat myself, to tolerate my moods, to be there.  Thank you.
Previous happy birthday posts to Matt are here: 2015, 2014, 2013, 2012, 2011, 2010