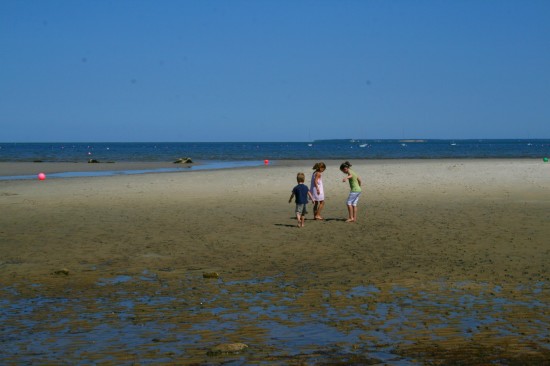 Grace, Whit, and my best friend from camp's daughter, years ago, on the beach where I spent so many summers
It has been a tremendous privilege, not to mention hugely inspiring and educational, to join my friend Aidan in the Here Year.  She announced that she'll be taking July and August to be here in her life, and in August I plan to join her.  For the last several years I've posted pictures in August, and I may still do that from time to time.  I'm not sure.
August is the deep, hot, swampy end of summer, and it's also when I start feeling keenly the approach of fall.  The year turns towards its next season and as I've noted before I think my own sensitivity to endings may come from having been born in this liminal season, when transition hangs on the horizon, coloring everything.
This August Matt and I will have two weeks without the children, who are away at camp (after 1.5 weeks in July).  As I think of my children at the same place where I spent so many summers, I'll remember yet again how seductive and confusing then and now can be, twining together into a cord of nostalgia and memory and love and loss.  We'll pick them up on my 40th birthday and then we will have a week of family vacation in Vermont.  We'll go to the same place for lunch on our way up, and visit the campus where Matt went to college; the drumbeat of tradition will soothe us all, remind us of the rituals that frame so much of our family life.
I intend to be here for all of it.
By the end of the month we'll have returned to the schedules to which our real lives march.  Soccer practice will have started, we'll have new sneakers for bigger feet, and I'll be packing lunches again.
I'll see you then.