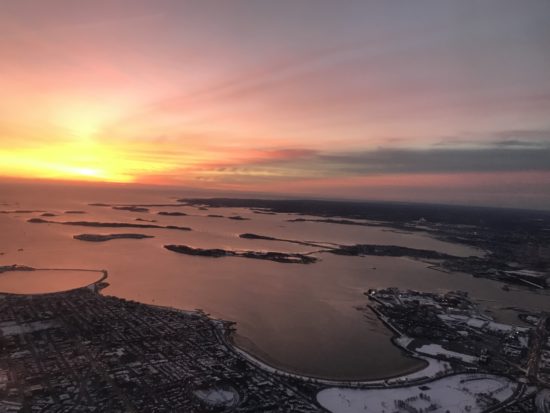 Sunrise over Boston harbor, February 20 2019.  I chose a sunrise on purpose.
Starting today, I am going to pause writing regularly here.
It feels strange to write that.  I've been writing here for twelve and a half years (with a few weeks off here and there, but mostly between 2 and 5 times a week).  Every January I have the previous year's blog posts bound into a book, and those take up more than half a bookshelf.  I have written a lot, and I am really starting to feel like I'm just saying the same things over and over again.  My "real life" has gotten busier than ever and those two things, combined with my perception that fewer and fewer people are reading, leads me to think this is the right moment to take a break.
I may come back.  I don't know.  In the meantime, I hope you will find me on Instagram.  I'm also on Facebook and Twitter, but it's Instagram that I like the best and where I'm most present.
I began this blog on a whim in September 2006.  I could never have imagined the world I would find through this portal.   This blog has opened doors I never anticipated.  The practice of showing up here day after day, week after week, has taught me that writing is the true work of my heart (and it showed me what I think and feel, in so many cases; Didion comes to mind: "I write entirely to find out what I'm thinking").  I still hope to write a book someday.  Most of all, this blog has led to connections with so many wonderful people, many of whom I call friends.
Thank you.
Thank you.
Thank you.