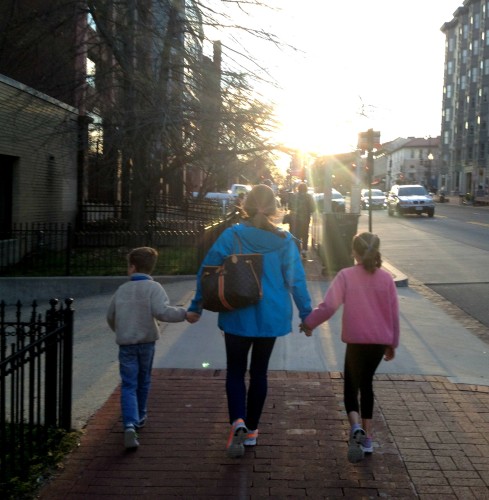 Every night, when I put Grace and Whit to bed, I whisper, "I'll see you in the morning."  That sentence is, as I wrote a few months ago, the distillation of parenthood.  I will be here in the morning.  You can go to sleep, safe, sound, trusting.  I'm not the only mother who finds bedtime, and the hushed hours after the children go to sleep, to be among the sweetest parts of the parenting day.  If I search my archives for bedtime posts, pages and pages come up.  Good night, Whit is among my favorites; I can't read it without crying.  That's especially true now, as I read through the scrim of years, with the awareness of all that has irrevocably changed.
Often, I go back in to see Grace and Whit before I go to sleep.  And sometimes I sit next to them on their beds, watching their sleeping faces, observing the shadows that their eyelashes cast across their cheeks.  Sometimes I put my hand on their chests, feeling their breath rise and fall.  There is a tangible grace in the rooms of my sleeping children, a magic that hovers in the dim, nightlight-lit air.
I love these moments, when I watch them, listening to the quiet of the room, the soft thrum of their breathing.  I stare at the length of their bodies under the covers, tumbling down the hall of mirrors that is my memory, remembering their baby selves in their cribs in these very same rooms.  It is such a cliche, but many cliches grow out of truth, don't they?  How did these children, simultaneously sturdy and fragile, long and angular and lean, come out of my body?  Where did my babies go?
The expanse of Whit's back, as he stands up to his ankles in the ocean, or the shadows Grace's eyelashes cast on her cheeks when she's looking down, reading: these are as familiar to me as my own face in the mirror.  They came from me and they are still intimately known; this is the private geography of motherhood.
As I write this I'm away from Grace and Whit, and I'm heading home today.  I can close my eyes and imagine their bodies barrelling into mine when I walk in the door, the smiling faces and mile-a-minute talking and hugs.  The hug that will remind me that Grace's head now falls pretty close to right under my chin, and that Whit is the height I still delusionally think that his sister is.  And tonight, you can be sure, after I tuck them in, I'll go back into their dusky rooms to watch them sleep, to be reminded of their beating hearts and breathing lungs, of their sturdy and fragile bodies, of them.  My daughter and my son.