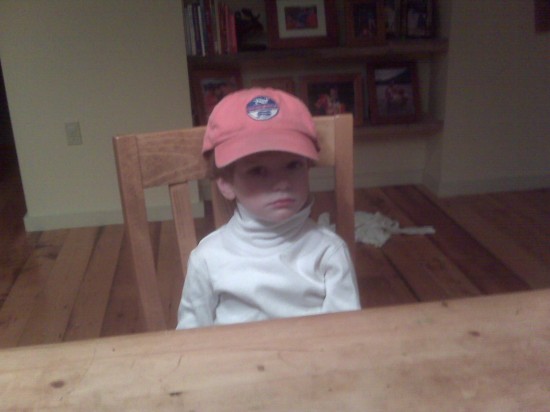 Last night, as I tucked Whit in, the room was heavy with nostalgia. It was dim, his favorite lullabye was playing, and I curled into his bottom bunk, breathing him in as he lay with his back to me. One week from today he turns five, and this awareness is stitched through every moment of every day lately. I can barely bear it. I kept my eyes closed as I felt him turn his head to look at me, and I heard his low giggle, presumably at the unusual delight of seeing me "sleeping" in his bed. The nearness of him, the just-bathed little boy smell, the familiar lullabye music, the nearness of his birthday all swelled into a huge wave of nostalgia and sadness and, predictably, I found myself blinking back tears.
I thought about how recently I wrote about how his "babyhood clings to him" and how that is just not true anymore. I thought about the moment he was born, a moment as clear and crystalline as any I have ever experienced, I thought of the million times he has driven me to yell at him and the million and one times he has made me cry with sweetness. I turned to sit up and felt his hand reach back and grab for me. "Don't go, Mummy," he murmured, so I stayed put for another song. Peculiarly, I remembered those last days of pregnancy, when the baby feels so tight in your drum-hard belly that you feel it every movement with an exquisite, painful awareness. My emotion felt that big inside me, almost as though I could not contain it with my physical body.
Finally I forced myself to open my eyes and sit up, and I leaned over Whit, studying his face. My gaze moved slowly down his face, his features unfurling again to me as if brand new: his eyes, so blue even in the darkness, his long eyelashes, his pale skin, and his defined cleft chin, one of the very few tangible things he has inherited from me. He reached up a hand and clasped me behind the neck, smiling, with what struck me as a curious, surprising awareness of the moment. I smiled back at him, "I love you, my little man." Tears ran down my face and I saw puzzlement wash into his eyes. I smiled again, trying to reassure him that nothing is wrong, and felt relieved when his face softened. "I love you too, Mummy." He pulled my face down so it was right next to his. I felt his soft cheek against my wet one, and turned to give him a kiss. He clasped his hands behind my neck, holding me to him. "I love you as much as the sky," I heard him whisper.
Oh, my baby boy. Five years old. There is so much tenderness I am not sure I can stand it.