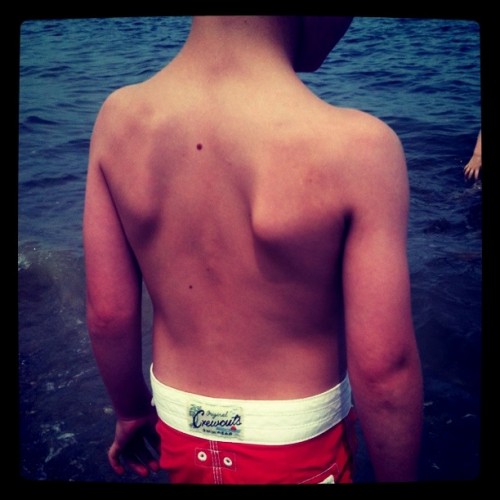 I always think of their shoulder blades as wings.  Their wings, poking through their skin.  And his little back has two freckles on it now, marks marring his white, skim-milk skin, my skin.  Life beginning to make its mark on my child.
The wings, though, are on my mind today.  The wings.
This past winter Whit went through a phase when he slept every night with his hand clasped around the little compass my parents gave him in his stocking for Christmas.  I always wondered, when I went in to kiss him goodnight, where his dreams were taking him.  Where was he flying, in his sleep, guided by the true north he could always check in his palm?
May they have both a compass and wings, my children.  Oh, please, please: never let them lose that physical sensation of wonder, that feeling that I always associate with wings beating in my chest.  And please, please: let me help them each find their own internal compass, that needle that tugs north.  That internal compass which can be trusted to orient us, no matter what whitewater we tumble in.
I'm still looking for both my compass and my wings, and, oddly enough, my children provide them for me better than anything else in my life.  They seem to have both already.  Maybe we're born with our wings and our compass, and the task of our lives, at once simple and enormous, is not to lose them.