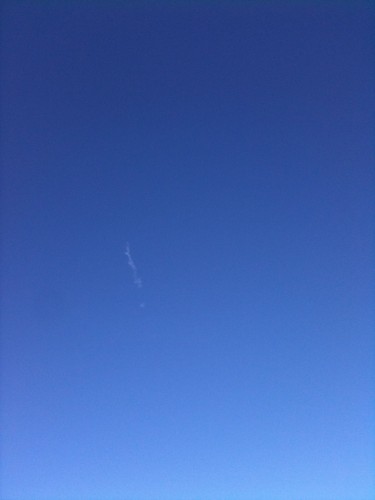 Grace watched some cartoons yesterday morning while I unpacked groceries in the kitchen.  She must have seen something on TV about the 10 year anniversary because came bouncing downstairs and asked, casually, "Mummy, what's 9/11?"  I stopped in my tracks and looked out the window at the gorgeous, unbelievably saturated blue of a sky that was exactly like that day 10 years ago.  My mind wheeled.  We had recently talked about the 9/11 attacks and about Osama bin Laden, and I grasped for what specifically I had said.
I turned to look at her.  "Remember, Grace, when we talked about the day the planes flew into the buildings?" She nodded.  "Well, that happened on September 11th.  9/11.  10 years ago today."  She looked at me, somber, thinking.
"Why, Mummy?"
"Well, Grace, the people who did it really hated America and they wanted to hurt and to scare us."
"Why do people hate America?"
I struggled with this answer more than any other.  I told her about how we had freedoms in this country – about what we say, what religion we practice, who we love – that other countries don't necessarily share or agree with.  I don't know how fully she grasped this, but she tried.  The conversation veered to the specifics of the day.  She wanted to know how the pilots were overpowered and what the people on the plane did, and then what it felt like to be in the buildings.  "Did they know they were going to die?" she asked me, and my eyes filled with tears.  I have no idea.  I can't answer that, I told her honestly.
Later in the day Grace had more questions.  She wanted me to assure her that she would always be safe on an airplane.  I said I couldn't do that, but that the odds of a problem were incredibly low, lower than those of a car crash.  Then she wanted me to promise that I would always keep her safe in the car.  I said I swore I would always try, but that those are promises that I can't make.  She looked at me, her desperate wish that I could promise I'd always keep her safe vivid, unmistakable in her eyes, and impossible.
I hugged her and told her, whispering into her hair, that the world was full of risk, but that we still had to walk out every day and see all the grandeur that was there, too.  We stood on the front porch and I pointed to the outrageous blue of the sky.  "See, Grace?  Like that.  There is so much beauty in this world.  I promise."  I wondered if I'd said too much, though I will never forget a lesson my father taught me about risk being an inherent part of life when I was just a bit older than she is.
All day long I felt sad and melancholy, remembering 10 years ago.  I remembered on my  morning run that day thinking of how I had to call Hadley and John to wish them happy first anniversary.  I did call, but to say something else, and I never got through, because circuits to New York were impossible.  I remembered standing in a conference room on the 31st floor, watching the words "Boston high rises being evacuated" scroll across the bottom of a screen.  I remembered the friend from work, Beth, with whom I spent most of the day (including a long way home from Boston because we were afraid of getting on the T).  I remembered the night before and eating dinner on our porch with Quincy, eating the just-unfrozen top of our wedding cake (which we'd had the night before for our first anniversary) for dessert.
Most of all I remembered that Matt had been undecided whether he was going to fly out to LA the night before or that very morning on flight 11.  I remembered the voicemail I saved for years, where he said "Hey, my meeting got out early, so I'm going to run to Logan to try to get out tonight."  That bleak ghost had brushed against me and I felt its chill in my spirit.  I also felt, then and again, yesterday, the deep knowledge, guilt and gratitude mixed together, that there are others on whom that fog had descended permanently.
The veil between the mundane and mysterious details of our life and the horror we can't even bear to imagine is as thin and delicate as a cobweb.  The risk is unavoidable.  And the sky is so, so blue.