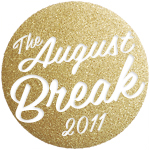 I'm hopping on Susanna Conway's delightful August Break bandwagon … for the month of August I'm going to post a picture a day, and take it easy on the words.  If moved, I'll write words, and may well share quotes, but I need this break and am sure you can relate!  Please join us – click over here, learn more and add your name.
Have a wonderful August.  I'm definitely nervous that nobody will come back here in the fall, but I hope you will return on September 1st.  I will have had my birthday and hopefully I'll be through this period of intense rain.  I'll have been to Legoland and to Lake Champlain and be in the midst of preparing my new 1st and 3rd graders for school.
See you soon, I hope!