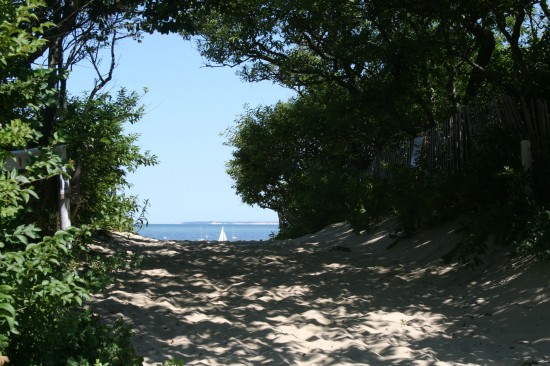 The summer camp I attended was a vitally important place to me.  I spent nine summers there, up to and including two as a counselor.  In the rapidly shifting seas of my family life (we moved back and forth across and ocean in those nine summers) camp was the one steady place, a raft moored stubbornly, an unmoving spot in a gale. I can't wait to pick Grace up there tomorrow.  Absolutely my primary motivation in signing her up to go this summer was my firm belief in the importance of independence and my certainty that she would have a terrific, and valuable, experience.  But it was also that I wanted her to share a place that had been so incredibly meaningful to me.  When I am there the memories rise up, as evanescent but as tangible as puffs of sand blowing off of the dunes.
I grew up in the dunes and fields of Brewster, Massachusetts.  I'm as sure of that as I am of anything.  I met several people who remain incredibly important to me.  First, of course, Jessica.  I also made other special friends, like Leigh and Stacy, and another person who I haven't written much about.  Ours was a unique and formative friendship, platonic and enduring, and I think of him far more often than we are in touch.
He taught me to appreciate a gin and tonic, to understand the healing power of real, deep laughter, and to love John Coltrane.  He gave me a fistful of memories I still return to, an underlined copy of Christopher Robin, and a sliver of belief that I might be worth something as a human being.  If someone so incandescent with life, so filled to the brim with charisma, intelligence, humor, and kindness, saw something in me, well, that was enough for me.  He knows who he is.
Thank you.