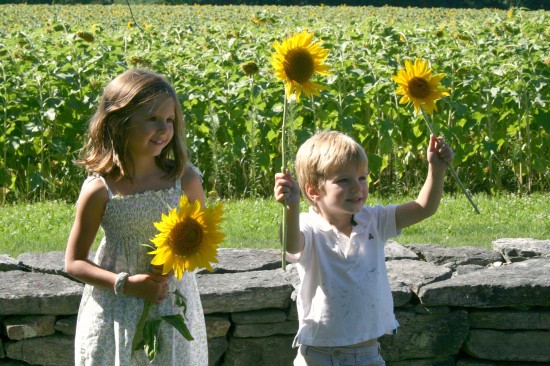 This has been a marvelous summer in many ways. I've really let myself sink into life at home with Grace and Whit, and I've been fortunate to do some special things with them that I hope they will always remember. They have each commented to me that they like having me around more, a comment which delights and saddens me at the same time (I am going back to work in a few weeks). The kids seem taller by the day, both are tanned, relaxed, and happy, and their relationship is developing into a true friendship (though of course the non-stop fighting has not changed).
It's also been a strange and somewhat sad summer, an interval of time suspended between two realities, between the known and the unknown. Newness and change hover on the horizon, and as we move towards the end of August the shadows they throw grow ever longer. The summer always feels a bit apart from regular life, and that has been even more true than usual this year. There's something safe about that knowledge, but also something sorrowful. This special time draws to an end and I feel its closing in my bones, like the sudden chill in the evenings and the infinitessimally different angle of the sun.
We still have three weeks left, but a part of me is already lunging towards the fall, wishing the changes would just come already rather than continue to lurk around the corners of my days. I've begun to feel that preemptive anxiety that always robs me of the riches of today. I wish I could push the insistent awareness of what is coming out of my field of vision, so that I could purely inhabit the days that still lie between me and that future. I've never been good at that, though.
Today is my birthday, signaling the clanging shut of another year, and the promise of another (oh the blessing it is that this is so – I know it, I do). Mid August seems to be when peoples' attentions shifts towards fall, despite the fact that we are still deep in long hot summer days. A perfect analogy for me, I think, and the way I exist both here, now, but also in the future (and the past) in a way that sometimes occludes the radiance of my ordinary life.
"What will be will be well, for what is is well." (Walt Whitman, thank you to Glenda Burgess for the reference).
Onward. Into the unknown – and the unknowable. Towards the radiance.