"You're kind of funny," Matt said to me the other night, "And hardly anybody knows that about you."  I looked down the stairs to see that he was grinning up at me, laughing at some crack I'd just made.  I don't even remember what it was.  But the moment made me think of how frequently I write here of the tough stuff, the bleakness I can't shake, the sensitivity that defines my experience in the world, the tears that come up every single day.  A reader could easily think I'm a heavy, gloomy person. I've received more than one inquiry along these lines, from well-intentioned people sincerely concerned about my state of mind.
So I was grateful to read Pam's once-again-beautiful words, this time on this very subject.  She quotes from Dani Shapiro's Devotion (a book you all know I worship), a passage where Dani quotes Sylvia Boorstein: "I think of it as the edge of melancholy," Sylvia said, "and it's where I live – but at the same time, I am easily cheered."  Pam goes on to share moments of her radiantly beautiful ordinary life that cheer her immensely.
I was moved to do the same, upon reading her words.  There is plenty that makes me smile and grin and laugh, every single day.  Yes, my days contain plenty of murk and mess, their share of tears and heartbreak.  I've said it before: It's all connected, the way I observe the world in sometimes-excruciating detail, the untrammelled rushes of joy I can feel at the most unexpected times, the heart-wrenching pain my life delivers at others.  This is all a part of being an exceptionally porous person.  Is it any wonder that I've had to develop coping mechanisms, be they an aversion to true vulnerability or a tendency towards distraction, in order to mitigate the power of constantly living in such an exposed way?  I'm easily overwhelmed by the grandeur and terror of this life, and I have over 36 years built up a variety of ways of managing the pain that that inundation can bring with it.  It's a package deal, the wound and the wonder.  I don't know how to have one without the other.  Even the most swollen, shiny rapture is striated with sadness.
Inspired by Pam, here are a few things that make me feel joy so strong it is a physical sensation.  I'm not sure I dwell enough on those in this blog, on the untrammelled joy, the swollen, shiny rapture, the radiance.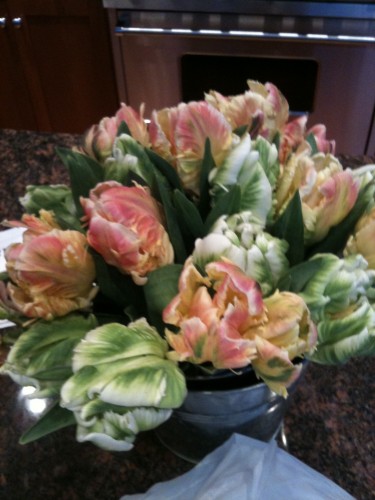 Parrot tulips, pale pink and green.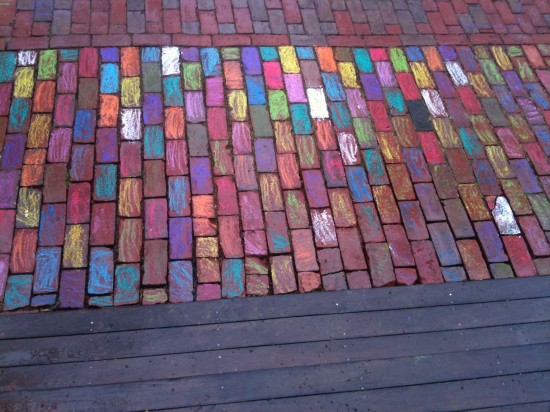 Bricks, outside our front porch, colored in chalk in the rain by Grace and Whit.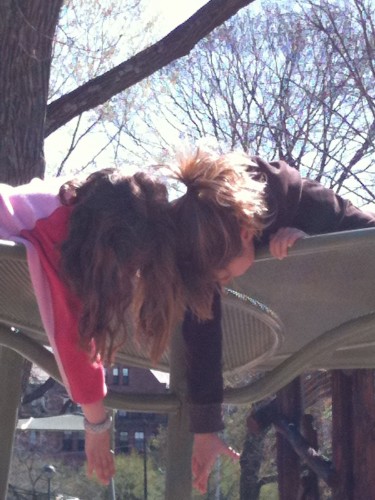 Two eight year old girls climbing onto the roof of a play structure at the park on an early spring day.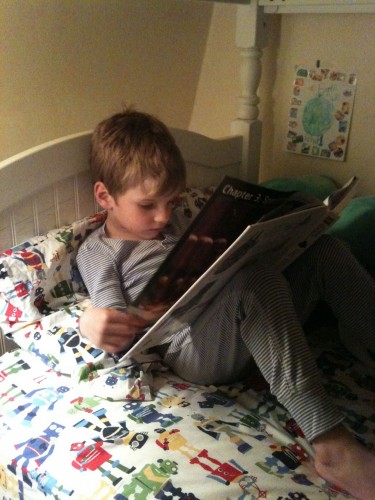 Whit, reading quietly in bed (after he protested my effort to put him to bed at 6:52, I allowed 15 minutes of solo reading).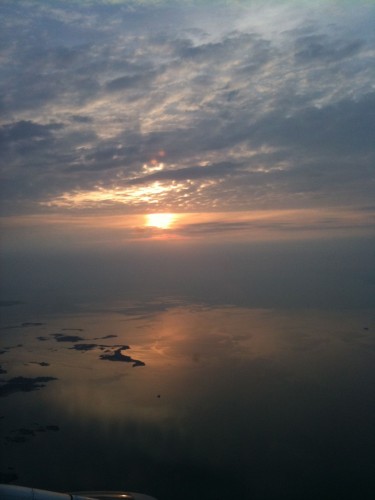 Sunrise from the air over New York, 6:30am, last week.