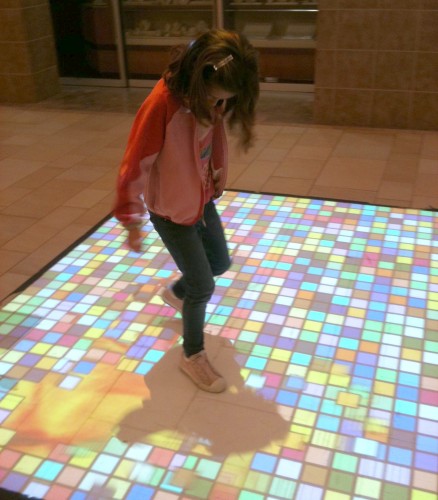 Yesterday afternoon Grace asked me to play American Girl dolls with her.  I told her I couldn't right that minute, but that we could before bed if she wanted to, though she'd have to forgo TV.  No problem, she enthused.  Later, as we were playing, she mentioned that most of her friends at school don't play American Girl anymore, and I felt a surge of emotion – some combination of panic and sadness, the steamroller of this life roaring in my ears as it flies past.
"Hold back!  Stop!  I panic, unprepared for change, but it's too late … I cannot gather back one moment, only marvel at what comes next." -Louise Erdrich, The Blue Jay's Dance
Blinking back tears, I helped Julie the American Girl brush her teeth, and then I brushed out her long blonde hair, watching Grace chatter to the toy dogs as she lined them up, kissing each goodnight.  God, I thought fiercely, I do not want this to be over.  Not now, not ever.  I am not ready.
Then Grace tucked her two dolls in and told them a bedtime story.  I sat cross-legged on the floor, leaning against her bed, listening to her tale.  A lion named Aslan (guess what she's reading) was presiding over a brand-new land in which a girl and her parents were lost.  The parents were scared of the lion but the girl could understand him, so he spoke to the adults through the child.  "Your daughter is special," the lion said.  Grace looked up and caught my eye, and I smiled at her.  "She can understand when animals speak.  There is no reason to be afraid."
Grace trailed off, leaning to pull the orange blanket up over the two girls.  "Grace," I spoke to the back of her head, her brown hair already drying from her bath, "If you could have any super power, would you choose being able to speak to animals?"  She sat back down right across from me, shaking her head firmly.  "No.  I would choose invisibility."
"Really?  Why?"  I was surprised.
"Well," she hesitated, glancing away from me.  "Well," she looked at me again and took a breath, "Sometimes at school, when someone says something that makes me feel silly, or hurts my feelings, I wish I could be invisible.  Just disappear."
My chest clenched up.  I wanted to hug her against me, to kiss away all of those hurt moments, and to say to her, as her fictional all-powerful lion had, there is no reason to be afraid.  As soon as that thought passed, I realized I wanted someone to tell me that, too.