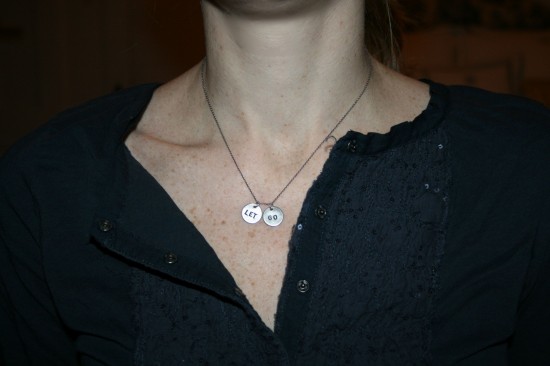 #Reverb10, day 5: Let Go. What (or whom) did you let go of this year? Why?
That's a picture of my neck.  With my Let Go necklace that I bought and wore often in 2010.  This prompt feels awfully close to home; it lands somewhere between my throat and my heart, right where those two discs sit.  I've done some letting go in 2010 but I know there is a lot more to do, and this necklace is a daily – hourly – reminder of that goal.
More than specific people, though I do think I have a tendency to cling longer than I should, and to fiercely refuse to give up in some cases where I ought to, the thing I most need to let go of is What Might Have Been.
This letting go is releasing my white knuckle grip on the way I wanted my life to be.
It is EM Forester's familiar words: "We must be willing to let go of the life we had planned, so as to have the life that is waiting for us."
It is also acknowledging that certain things are lost and other things will never be.
It is accepting, with a deep internal settling, the passage of time against which I rail so often and so furiously.
It is the sentence of Jack Kornfield's, to which I return again and again with an instinct as rhythmic and powerful as the tide, its truth ineffably sad and profoundly uplifting at the same time:
To live is to die to how we wanted it to be.
Let go.