Wednesday morning, early.  The sky was full of promise.  The clouds, the ever-lighter blue sky, all radiant as the sun bled over the horizon.  A sky of beginnings, of life, the kind of sky that, as I've said before, makes me believe in God.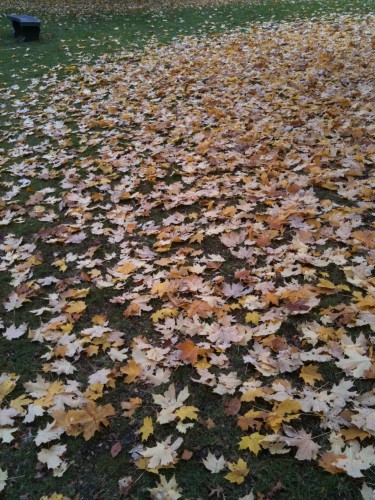 Wednesday, mid-morning.  The ground a riot of yellow leaves, a blanket spread around the tree that they fell from.  A ground resplendent with endings, with the beauty of life flaming out, of a year drawing to a close.
Up and down, beginning and end, sky and ground.  These polarities exist in every single hour of every day for me.
This is not my favorite time of the year.  Darkness encroaches.  We are a day away from the turning back of the clocks, which for me marks the beginning of the cold stretch of the year when there is far more dark than light.  I'm filled with dread about the darkness, and I'm also walking with memories of the difficult weeks and months after Grace's birth heavy on my shoulders.  As much as her birthday reminds me of the as-yet darkest season of my life, it also reminds me of the swift flight of the years.  I think, on balance, the latter is worse for me than the former.
I try to hang onto the inspiration and peace that so fill the morning sky, but it's hard, when the days shift so quickly towards dusk and the sidewalks are muddy with wet, decaying leaves.  The black branches of bare trees form their nets against the gray sky, and there is poetry in their barrenness, but so, so many endings. 
I do have calm and peaceful thoughts, but they scatter like a flock of sparrows taking flight from those dark branches into the faded gray air.  In their wake, a faint current of air disturbed by the beating of their wings, a sense of sadness, of rawness.  Another season – fall, this year, my daughter's eight year on earth, my eighth year as a mother – draws to a close. 
I'm moved enough by the morning sky, though, that it's not all bleak.  There are strands of incandescent joy and beauty woven through this damp, dark time.  All over again, I am reminded of the inextricability of endings and beginnings, of death and life, and of the beauty that can exist in each.  Today it is Jack Kornfield's words that are ringing in my head, over and over:
"To live is to die to how we wanted it to be."