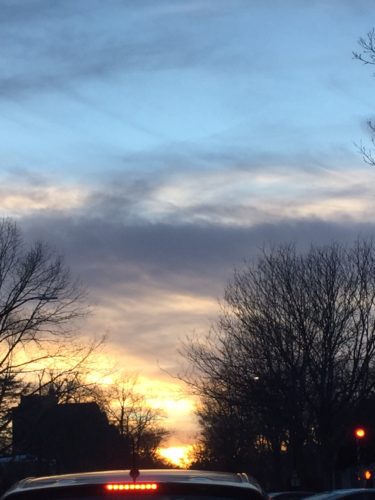 The sky is full of glories these days.
Hi everyone.  It's Sunday morning, and I woke up to a glorious sunrise which turned the white shades on that side of the house pink. One of my regrets about our house is that I don't have a good angle to photograph the sunrise.  My instagram feed is a parade of sunsets.  What does this mean?  Am I oriented towards the endings of things?  I am not sure.  Could be coincidence.  Could not be.
I am writing to ask for help.
This is sincere, though I'm worried it will seem trite.  For the first time in 10 solid years of blogging I'm considering stopping.  I feel like I repeat myself, over and over again. I can't think about anything other than time's drumbeat passage right now.  It might be because Grace is considering high school options.  It's probably mostly because Grace and Whit are growing so fast I can barely keep up.  That's not new, of course: they've been growing like that since they were born.  But now, all of a sudden, the finish line's in sight and every single moment is filtered through the reality of how numbered are these days.
I don't want to keep writing a relentless series of posts about how sad I am.  I am actually not sad – I'm acutely aware, and sensitive, but not sad.  I'm intensely grateful, too.  But anyway.  I know that's repetitive and dull.  I have also been wriring less and less about Grace and Whit, as they grow older and their stories are more and more their own.  So I need input from you.
What do you want to hear about?  I'm running out of steam, and I hate admitting it, but it's true.
Help.