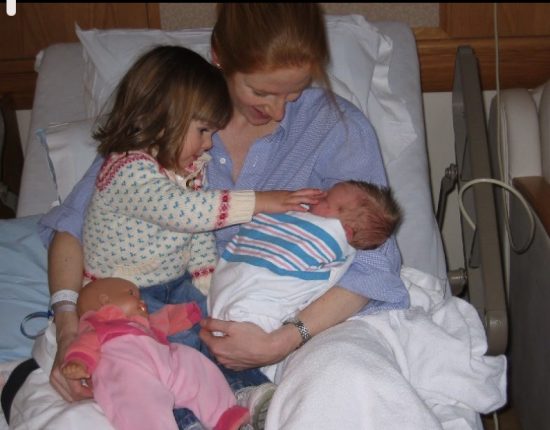 Dear Whit,
Yesterday you turned fifteen.  As I wrote on Instagram, this one particularly got to me.  We are both the same number of years from how old I was on that cold, dark evening when I labored by myself.  On that middle-of-the-night sprint to the hospital when you arrived 20 minutes after we arrived.  It was 15 years ago for both of us.  For some reason that blows my mind.  After your sister's long, extended, frankly brutal delivery, I expected your labor to be similarly long.  I told your father to stay at work to finish up what he needed to do as we were clearly many hours away.  I spent several hours in our bedroom, which is still our bedroom, walking around, breathing, feeling you as you agitated to be born.  When your father got home around midnight, he was shocked.  "Lindsey.  We are very close to having this baby."  He hurried me out the door and we are still joking that it was my passive aggressive attempt to have the home birth I really wanted.  It wasn't.  But what it was was the last time you were early arriving anywhere!
You were born in the very early morning, on the eve of a snowstorm, on the day of George W. Bush's second inauguration.  I did not know until your birth that inauguration day is always January 20 (unless it lands on a Sunday).  We have conveniently been able to measure your life in presidential terms.  I will never forget watching Obama's inauguration on your fourth birthday with my father, you, and Grace.
Back to that cold, dark morning.  You startled us with your speedy arrival, with the face of your boy-ness (we had not known your gender before your birth), with your shock of blonde hair, with your blue eyes.  With the exception of the speedy arrival, those things are all still true of you, a decade and a half later.  You completed our family and one of my very favorite pictures of all is the one at the top of this post, when you and Grace met for the first time.  It always reminds me of the William Blake line that "and we are put on earth/ that we may learn to bear the beams of love."  You've been adored since day one.
This last year you've grown into a young man.  There are no traces of early childhood on you anymore; you're taller than me and have bigger feet than your father.  You are growing into your own, asserting your independence and insisting on doing things yourself (I always think of the phrase I used as a child, "I want to do it my own self.").  We have no idea what you're doing in school until you tell us and you manage and execute your homework all by yourself.
One of my favorite things about you – and there are a lot – is the way you continue to try new things.  You aren't afraid to jump in and I love and admire that about you.  This year you've started wrestling for the first time and are really enjoying it.  You've started cooking and it's become a true interest.  I might even call it a passion.  You love to research recipes and to cook them.  You exhibit a quality I don't have in spades: patience.   You are happy to make dough that needs to rise overnight, for example.  You've made pizza from scratch, yeast rolls, steak, coleslaw, reubens (with homemade sauerkraut that took two weeks), cinnamon rolls, fried chicken sandwiches, and so much more. Dad and I are definitely beneficiaries of this new interest.  Other things that you tried for the first time in the last few years include rowing, running for school office, an exercise class you researched on your own, photography, and doing tech for plays.
You are still one of the most thoughtful teenagers I know.  You remember when we mention a big meeting or a doctor's appointment and ask about it at the end of the day.  You say please and thank you, and you've taken to heart the two words that Kirt Mead said separated us from the animals: may and well.  You use both.  You shake hands, look people in the eye, and use Mr and Mrs.  I force you to write thank you notes, but you do it.
It takes time to earn your trust and esteem.  You have a finely-tuned bullshit meter. You are perceptive and intelligent and your observations about other people or situations are usually very astute. You are loving History this year because you love your teacher.  He's direct and smart and funny.  He also brings his dog to class sometimes.  I've ruined your childhood by not getting a dog.  I know that.  Your favorites are samoyeds and we sometimes share photos and videos of golden retriever puppies that make us both smile.
You love to be surrounded by people.  You're at your finest when with your friends and your favorite place on earth is camp.  You are different from me in a host of really essential ways and you and I sometimes butt heads because of that.  But you also teach me more than anyone else, and please know that my needing to learn about how you approach things is not the same as my judging it.  I respect and admire the way you are in the world and feel absolutely sure that you are going to have a joyful, wonderful life.  I feel honored that I get to watch it from up close.
You will always be my last baby and my first son.  I'm sorry I embarrass you sometimes with the enthusiasm of my love.  I can't help it.  I adore you, Whitman.
Mum
Previous birthday letters to Whit are here: fourteen, thirteen, twelve, eleven, ten, nine, eight, seven, six, five.