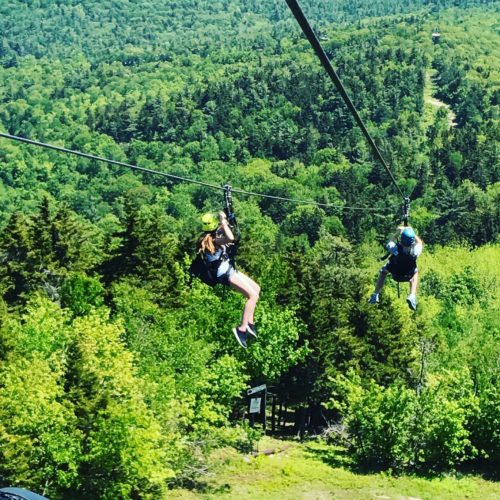 I have written a lot about traditions, and how they can form the scaffolding of family life. That's certainly true for us.  For many years our family's calendar has been dotted with traditions big and small.  As the kids have grown, some of these have fallen by the wayside and others have shifted but remained present.
There's both tension and the possibility of power, I've come to believe, in how we adapt our traditions to fit our changing lives.  Many years ago, I took Grace and Whit to Storyland for a night at the end of the school year.  It was a wonderful trip – so great that we went back the next month.  For several years we did that, and then one year we did something else (a treetop course at Cranmore) and this year we went ziplining.
We got to Gunstock on Saturday morning and signed lots of waivers.  Matt took a pass on ziplining because of his leg, so Grace, Whit and I went up the chairlift together.  As we rode to the top of the mountain, we watched some people pass on the zipline to our left.  I could not believe how high they were or how fast they were going.  I took a deep breath and caught Grace's eye.  What were we in for?
We ziplined a short distance from the chairlift to the top of the longest, highest zipline of the course.  The kids went together, ahead of me, and I followed them. As we wound up a rickety spiral staircase to the platform I felt dizzy ad paused.
"Are you okay, Mum?" Whit asked me from above.  I nodded, but waited a moment to regain my bearings.
"I'm a little nervous, too," he whispered to me when I reached the top. I felt the world swirl below us, and standing with my feet further apart than normal, to feel balanced, I reached for my phone to take a photo.
They got ready to go.  The lines soared away from the platform, and with a thumbs up over their shoulders, they did too.  I stood and watched them go, leaping into the great wide open, flying away from me.  The metaphor hit me over the head and I stood alone on the platform, slightly stunned and grateful at the same time.
In a few moments it was my turn.  Channeling their openness, I stood while the attendant hooked me to the zipline, and then I jumped.  And I flew.
When I arrived at the next platform, I saw Grace and Whit standing there, waiting for me, grinning.  I had tears in my eyes as I landed and joined them.  I thought back to another day, years ago, when the three of us flew.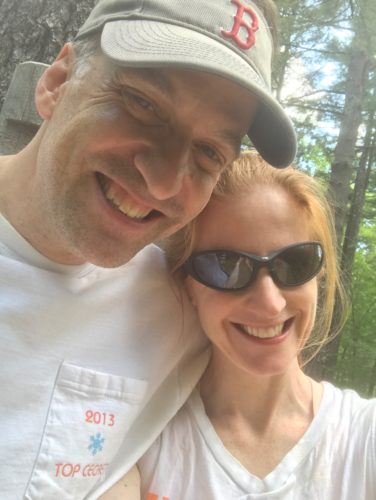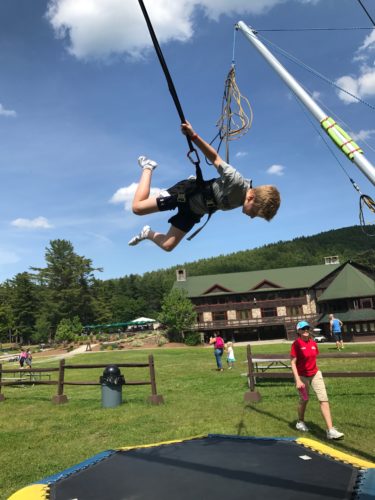 We went to the hotel we have stayed at for so many years, had dinner at our beloved Red Parka Pub, played at the water park, and fell asleep in a small room.  There are few things I love more than the four of us sleeping in one room.
Everyone fell asleep before me, and I lay in the dark room, thinking back to the early Storyland years. They were animate in the room, I felt, and the 5 and 7 year old versions of Whit and Grace floated in my memory.  I miss those years, desperately, but I'm so glad we've found a way to keep celebrating who the children are – who the four of us are – right now, and to keep our family rituals alive.
As we drove home on Sunday, Grace noted that she loved our annual celebration trip, and I swallowed hard to hide the tears from my voice when I agreed with her.  Oh, me too.  It is only by releasing our grip on what was that we can fully embrace what is.  The truth of that hit me hard this weekend.  I miss the days that were, but my God, that sorrow isn't going to get in the way of my grabbing the days that are.
This is ritual at its most powerful, I believe: a way of honoring what was and of celebrating what is.  A reminder of the sturdy underpinning of family life. A confirmation that something bigger than each of us holds us, and a plain say of love. This is who we are, Grace and Whit: a family that honors June each year, and one that trusts that when you jump off a platform into the sky, you'll fly.