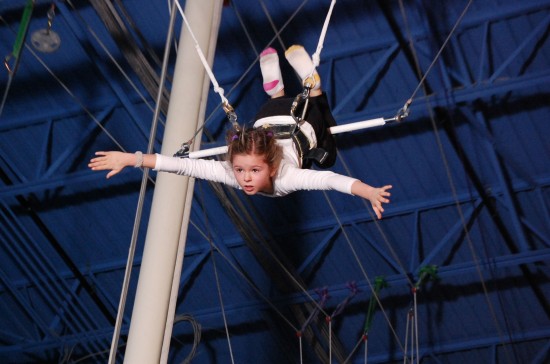 Matt was away this weekend, and Grace and Whit and I faced the luxury of an almost entirely empty Sunday.  I knew I wanted to do something adventurous, and a few days ago I signed the three of us up for trapeze school.
Trapeze school.  One of my friends texted and asked if we were skiing on Sunday and I answered that no, we were going to trapeze school.  She responded that wow, she didn't realize we were a circus family. Okay, fine, it was random.
We showed up on Sunday morning at 10am.  Well, we got there 25 minutes early because of my chronic earliness problem.  But the class started at 10.  With very little preamble, we were strapped into safety harnesses and climbed a seemingly endless set of rickety metal stairs.  We faced a carpeted platform, a smiling helper, and a trapeze.  Grace went first.  I couldn't believe her courage as she stood on the edge of the platform, grabbed the trapeze, and jumped.  My eyes filled with tears and my hands gripped Whit's tiny shoulders as we stood and watched her flying through the air.
I was pretty sure Whit would refuse to go.  This child, remember, won't even go on the spinning teacups, let alone even the slowest of roller coasters.  I was shocked, then, when he gamely stood at the platform edge.  The woman standing there had to hold him off the ground so that he could reach the trapeze.  And then he, too, flew.
The thing I was most afraid of was stepping off the platform.  You hold onto the trapeze, lean way forward into empty space against the weight of the helper who is holding your waist belt.  The ground yawns far, far below.  And then you just have to jump into thin air with only the trapeze bar and your faith to keep you off the ground.  The thing the children were most afraid of was the coming down, which involves letting go of the bar and trusting the belt and safety ropes to help you float down to the net, rather than plummet.
We went over and over again, culminating in being caught by another person on another trapeze.  It was flat-out amazing.  My hands are bleeding and callused and my children are exhausted and smiling.  At one point, after Whit had finally figured out the knee hang and let go, he smiled up at me and said, "Are you proud of me, Mummy?"
Oh, yes, my little man.  I was and I am.  Later Grace told me that she realized how good it felt to do something even when it seemed scary.  I expected an adventure, but I did not realize that once again my children would astound me and that they – and I – would learn yet another lesson about what it is to live this life.
Courage, bravery, trust, and letting go.  Being sure that something will catch you.  Stepping off into thin air with faith that you will fly.