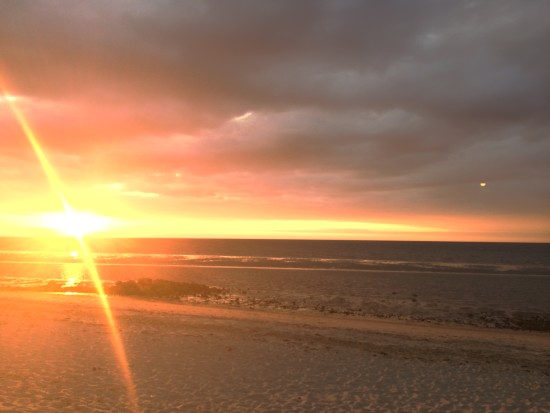 Sunset at the beach at our camp, August, 2014
Camp was a very important part of my life.  I went to the same camp, on Cape Cod, for many summers, including four years of a junior counselor training program and two years as a counselor.  It's a profound joy for me to watch both of my children attend and love the same camp now.  I couldn't possibly be more of a believer in what camps offer children.
Camp is a place that kids can be away from their parents, a place they can be joyfully rambunctious and experiment with new activities, skills, and experiences, a place they can meet and get to know friends who are different from their friends at home.  I place tremendous value in the out-of-their-regular-life aspect of camp, and in both of our childrens' cases they went without a friend from home.
I learned recently that our camp, which is coed, is full for girls but not yet for boys.  Apparently all-boys camps are also less full than all-girls camps.  I find this phenomenon fascinating.  What is it about?  Do boys want to go away less?  This is hard for me to believe.  Do parents feel camp is less vital or valuable for boys?  Again, this surprises me, but maybe it's true.  Is there increased competition for sports-specific camps when it comes to boys?  This, there may be some truth to.
For us, and I speak for both Matt and me here, we feel that camp is equally as important for a girl as for a boy.  We didn't hesitate to send Whit, as I had Grace, the very first summer he was old enough (8 years old).  Both of our children were excited about going away that first summer (and every summer since).  I didn't feel different at all about sending my children to camp.  In both cases I felt some trepidation and sorrow about saying goodbye (not really about missing them, but more about the recognition that I'm already here in my life).  But more than anything, I felt excited for them, and downright delighted to watch them fly.
There's also such huge value, in my opinion, in the relationships that develop between children and their counselors.  Where else in their lives do kids get to form close, loving bonds with young adults, particularly ones who are in aggregate such terrific role models? In my view this is equally as important for boys and for girls.
I did have one boy-specific moment when I observed Whit with his counselors, at pick-up, certainly, but even at drop-off.  I watched the boys play Gaga Ball and felt like I was watching puppies: they were freed to be physical and rowdy, to be joyful and affectionate, to run and jump and yell.  So much of modern life seems to tell boys to be quieter and softer and I distinctly remember watching Whit and thinking: oh, wow, at last, a place he can just be a boy (I realize this a stereotype even as I write it, but it is one that holds true in our family and thus I share it).
This reflection made me more convinced at the power of camp for my son, not less.  Both of our children are looking forward to the summer ahead, and so are we.
Are you a summer camp family?  Do you feel differently about camp for boys as you do about camp for girls?