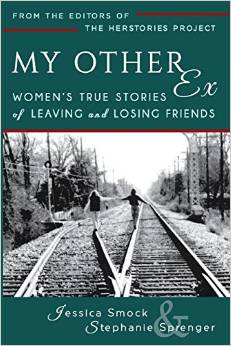 It was a great honor to have my work included in Stephanie Sprenger and Jessica Smock's first anthology, The HerStories Project: Women Explore the Joy, Pain, and Power of Female Friendship
.  Friendship is an important subject to me (as evidence, my archives for that topic), and I loved the book, which touched on so many facets of female friendship.
Stephanie and Jessica have just published their second book, My Other Ex: Women's True Stories of Losing and Leaving Friends
, which is focused on one particularly complicated, thorny, and emotional of these facets.  The book unpacks the myriad experiences of friendship's end.
These paragraphs, from Jessica Smock's introduction to the book, provide a succinct and compelling summary of the project's important goal:
"There is so much good, so much power, so much love, in female friendships. But there is also a dark side of pain and loss. And surrounding that dark side, there is often silence. Women feel that there is no language to talk about their feelings. There is shame, the haunting feeling that the loss of a friendship is a reflection of our own worth or capacity to be loved.
This book, we hope, is a step toward breaking that silence. We as women need to recognize the scars of lost friendships and make it okay to talk about them. And we must also teach our daughters how to manage conflict and emotion without resorting to these forms of indirect aggression that cause deep pain with no visible wounds. The life cycle is long, and many friendships will not last. Yet the end of something once powerful and important will bring sadness and grief, feelings that deserve to be acknowledged."
I think the experience of losing a close friendship is a universal one.  I've certainly been through it.  I've felt deep heartache, profound guilt, and lingering loss that has stayed with me for a long, long time.  My female friendshpis are vitally important to me and the few occasions that I've seen one die have caused me real pain.
I love, too, what Jessica says too about helping our daughters develop the tools to both navigate friendships (many do not, in my opinion, need to end) and to honor their loss if it happens.  To celebrate the importance and life-enhancing value of female friendship while acknowledging that not all relationships last a lifetime.  I hope you will check out My Other Ex
, which is full of richly layered and beautifully told personal stories.
I'm also happy to share that Jessica and Stephanie's next collaboration is a book called Mothering Through the Darkness: Stories of Postpartum Struggle.  They are open for submissions through December 1 and I hope some of you will consider sharing a story.  Postpartum struggle (what a wonderful way to describe what can be a kaleidoscope of experiences) is a topic very dear to my heart, and I'm really excited to read this next book.  I'm also hugely honored that Jessica and Stephanie asked me to join an esteemed panel of judges for the submissions.