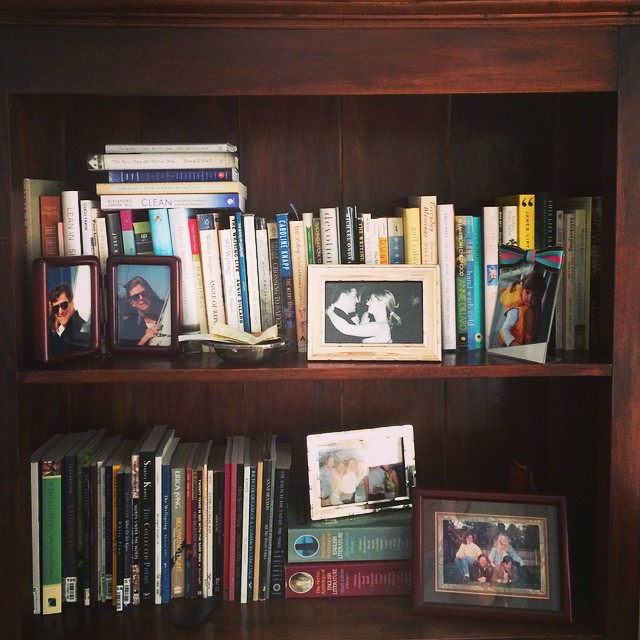 The first thing I do when I'm in someone home for the first time (or even not for the first time) is look at their bookshelves.  I can spend a long, long (probably a socially-unacceptably long) amount of time browsing the books they keep, display, and, presumably, love.  I think there is a tremendous amount we can learn from others by what books they have in their living rooms.
It's connected to this belief, I think, that I love the rise of the shelfie.  I've shared a few of my own, recently and last summer (my Woolf and thesis section, and my poetry shelf).  I've captured the bookshelves at my parents' house on the shore.  I have many, many more bookshelves to photograph and suspect I'll keep doing that.  I'm often charmed by the random assortments of books that wind up together on a shelf.
Last year we had our first floor repainted and as part of that project I had to empty out our built-in bookcase and then reassemble it.  It was great fun to revisit all those books, and to decide who should sit next to whom on the shelf.  Ann Lamott next to Annie Dillard.  Classics all lined up together, their broken-in spines speaking of how carefully I read them way back in college.  A small section of anthologies I've had work published in.
I think often of the famous Cicero quote that  "a room without books is like a body without a soul."  I agree entirely.  I read hard-copy books and always have, but I watch the world shifting slowly but irrevocably towards e-readers around me.  One of the primary questions I have about this is what will people put in their bookshelves, in a world without paper books?  Another quote comes to mind, this one Anna Quindlen's: "I would be most content if my children grew up ot be the kind of people who think decorating consists mostly of building enough bookshelves."  On this dimension I know I would please Quindlen greatly.  I come by it honestly: my childhood was spent tripping over stacks of books and to this day my father likes to crack that "home is where you keep the books."  A fun family outing for us is a trip to a used bookstore.
For now, I'm sticking with paper.  And I'm still, endlessly fascinated by looking at bookshelves, in my house and in those of others.  What are some of your favorite bookshelves?