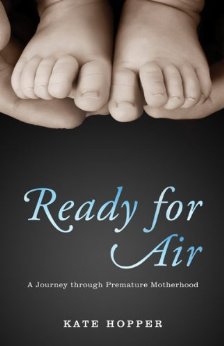 I dove into Kate Hopper's Ready for Air eagerly, knowing already that I love her voice and fascinated to read about her experience delivering and mothering a preemie, and I was not disappointed.  The fact that Kate makes so specific a story universally relatable speaks to her power as a writer.  She uses her personal story to illuminate the grand pageant of motherhood and in so doing had me nodding, giggling, and crying more than once.
Ready for Air opens as Kate's pregnancy turns from uncomfortable to threatened.  Within the first few pages she is admitted to the hospital with preeclampsia and, quickly, induced.  Her daughter, Stella, is born at 3 pounds, 6 ounces.  Under the flourescent lights of an operating room, disoriented by an array of drugs, scared but grateful, Kate's journey as a mother begins.
Early in my pregnancy, people told me that when I first saw my baby, I would experience a love that called into question all the other loves in my life … And I'm ready for that, for the love to pour out of me when I see Stella.
I was told this, also, and though my experience was worlds different from Kate's, I similarly did not feel the wave of incredible love and identification I'd been told to anticipate.  I stared at Grace and thought: who are you?  Kate looks at her baby, alone on a table in the NICU, and thinks "This cannot be my baby.  This is not how it's supposed to happen."  This moment in the NICU, when Kate falls into the lacuna between expectation and experience, introduces one of the main themes in the book.  There are as many roads to motherhood as there are mothers, and to overly emphasize the myth of an immediate, all-encompassing love disenfranchises, or, worse, terrifies, women for whom the experience is different.
"I could never have imagined a place that contains at once so much hope and so much fear," Kate writes of the NICU, but it is an apt description of her first weeks of motherhood more broadly.  Stella's time in the NICU is not without setbacks and challenges, and many days hold tears.  Even so, love takes hold.  At one point, when Stella has taken a turn for the worse and developed an infection, Kate stands by her isolette and watches as her chest "rises and falls, rises and falls.  There is an ache in my own chest, and I realize that this is how it feels to have my heart break…. I had started to fall in love with my daughter."
Fear swirls throughout Ready for Air, animating and defining the first weeks and months of Stella's life.  Just as she describes the NICU as a place of hope and fear, Kate notes when Stella is a month old that "fear and gratitude seem to coexist for me in a way they never have before."  Bringing Stella home, which Donny and Kate had anticipated would be the beginning of a peaceful, joyful time, instead ushers in another, even more difficult phase of parenthood.  There is exhaustion and depression and loss of identity and more and more fear.
The most successful memoirs make of deeply personal, highly granular stories large statements about being human.  Ready for Air accomplishes this.  Through the tiniest details of her experience and of Stella's new life, Kate expresses the universal.  At one point she notices Stella's "tiny nose, her ears, thin as paper, each the shape of a continent.  In the coil of one ear is Africa and in the other, South America."  Later,  as she and a nurse feel the unevenness of Stella's skull they observe that the bones are "like tectonic plates."  The world itself is contained in the face and bones of this three-pound premature baby.  Even in days fraught with ambiguity and peril, when their bond seems both tenuous and attenuated, Kate feels wonder while gazing at her daughter.  It is this strand of awe that pulls her through all the long and difficult first months of Stella's life.
Fear beats through Kate's first months as a mother like a pulse, but it is uncertainty that she learns to breathe like oxygen.  One of the central lessons of Ready for Air is that nothing is ever guaranteed.  As I read I remembered my own disorienting, destabilizing first months of motherhood, felt again that exhaustion so deep it seemed like I had sand in my eyes and vague, constant thrum of an inchoate panic.  But I also remembered the way I gradually fell in love with my daughter, the intoxicating smell of her baby head, the waves of peace that sometimes – only sometimes – swept over me as I rocked her in the middle of the night in the nightlight-lit twilight of her room.
So much of Ready for Air is universal.  Though Kate speaks of an experience I cannot image, she plays chords I know by heart.  Motherhood is profoundly individual, and we need to honor the myriad colors in which it comes, but it is also shot through with emotions as essential as the air of the title.  Ready for Air powerfully evokes the fear and ambiguity of one woman's difficult season, but it is also full of a parent's abiding love, and the deep, bewildering wonder that is at the heart of motherhood.
I have a giveaway copy of Kate's marvelous book to give to a lucky reader!  Just leave a comment here and I will choose one at random on Friday evening this week.  You will love Ready for Air.
University of Minnesota press is going to donate 15 copies of Read for Air to neonatal intensive care units in the US and Canada.  We would welcome suggestions of hospitals that you think should be considered.  Please put the details in the comments, including an address and to whom the book should be sent.  When Kate's blog tour is over, she will draw 15 hospitals and send each a signed copy of her book.  You can read more about this giveaway here.