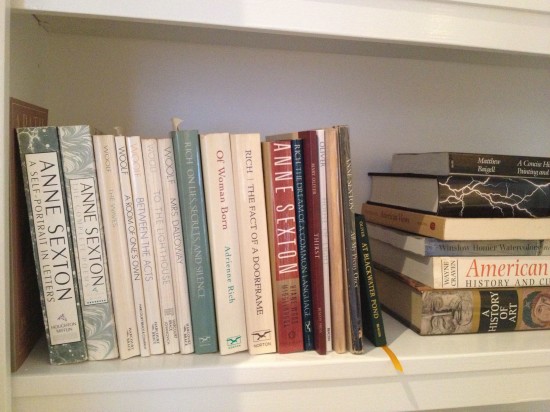 Katie Noah Gibson's blog always makes me smile.  It also makes me wish I could read faster, more, more more.  She writes thoughtful book reviews and inspiring posts about her town (which is also my town!).  I loved this "bookish survey" which combines two of my great loves – books and lists of random minutiae – and I wanted to participate.  I'd love to hear your answers, too.
Author you've read the most books from (the grammar nerd in me has to say: from whom you have read the most books): J.K. Rowling, Adrienne Rich, or Anne Sexton.

Best Sequel Ever: Catching Fire comes to mind, though I'm not sure I have a comprehensive list of sequels in my head.

Currently Reading: Sweet Tooth by Ian McEwan.

Drink of Choice While Reading: Water or Diet Coke.

E-reader or Physical Book? Physical books. Always.

Fictional Character You Probably Would Have Actually Dated In High School: This was the hardest question for me.  I probably would have pined for Phineas from John Knowles' A Separate Peace (the ultimate cool guy) but would have dated Nick Carraway from Gatsby (a quintessential outsider).

Glad You Gave This Book A Chance: The Fault in Our Stars by John Green.  For some reason I was resistant to it, and now it is firmly ensconced in the pantheon of my Most Beloved Books Ever.

Hidden Gem Book: The Book of Qualities by Ruth Gendler

Important Moment in your Reading Life: When I discovered poetry, in college.  I wrote on to write my thesis on poetry, and it has been an incredibly important part of my life ever since.

Just Finished: The Signature of All Things by Elizabeth Gilbert.  L.O.V.E.D.
Kinds of Books You Won't Read: I have never liked historical fiction (which makes my passionate adoration of the book above even more remarkable!)

Longest Book You've Read: Not sure between Our Mutual Friend (Dickens), Vanity Fair (Dickens), Anna Karenina (Tolstoy),The Fountainhead (Rand).

Major book hangover because of: The Hunger Games.  When I finished that trilogy I was bereft.  I still can't stop thinking about them.

Number of Bookcases You Own: Two big ones and a wall of built-ins.

One Book You Have Read Multiple Times: The Harry Potter series.  I read them by (and for) myself when they came out (I read 3 and 4 on our honeymoon) and then again with Grace (we are on #7) and now with Whit (we are on #4).  I discover something new every single time and I'm pretty sure I'll read the series a fourth time.  I have also read Crossing to Safety three times. 

Preferred Place To Read: In my bed.

Quote that inspires you/gives you all the feels from a book you've read: "She had always wanted words, she loved them; grew up on them. Words gave her clarity, brought reason, shape." – Michael Ondaatje, The English Patient (it is literally impossible for me to choose one; this merely came to mind first)

Reading Regret: I wish I had read Joyce's Ulysses and Dante's The Divine Comedy in college. 

Series You Started And Need To Finish (all books are out in series): None.  Waiting on Allegiant by Veronica Roth.

Three of your All-Time Favorite Books: Divisadero, Michael Ondaatje.  Light Years, James Salter.  The Collected Poems, Mary Oliver.

Unapologetic Fangirl For: Harry Potter.

Very Excited For This Release More Than All The Others: Anne Lamott's new book, Stitches.

Worst Bookish Habit: Saying no to plans so that I can stay home and read. 

X Marks The Spot: Start at the top left of your shelf and pick the 27th book: Selected Stories, Andre Dubus.

Your latest book purchase: The Signature of All Things, Elizabeth Gilbert.

ZZZ-snatcher book (last book that kept you up WAY late): A book of Wendell Berry poetry (I know: can you handle the cool?)