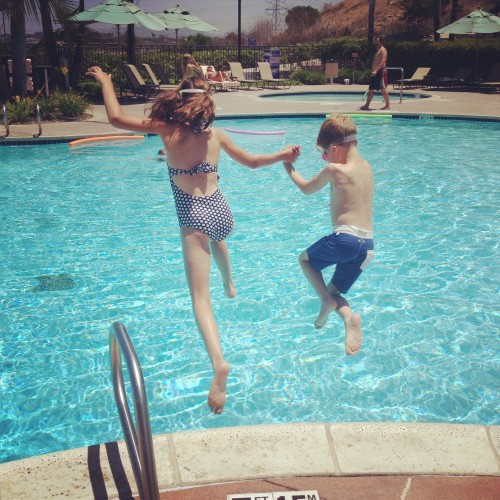 I loved Ali Edwards' 10 Questions for Simon post a couple of weeks ago.  I decided to ask Grace and Whit the same 10 questions (well I changed one, #2, which was originally about Batman), and it feels apt to share their answers now because they are both at sleepaway camp.  This is Grace's third summer, so I was expecting the tears (mine) and heart-rending goodbye (also mine).  It was the first time I left Whit at camp and … wow.  I miss them.
1. What is your favorite thing right now?
Whit: Legos
Grace: soccer and dogs
2. What food do you love most?  How about least?
Whit: most: mac & cheese and least: sweet potatoes
Grace: most: summer squash and least: fish
3. How do you feel about going into 3rd/5th grade in September?
Whit: I feel good about it.  I am excited to see my friends again.
Grace: I'm excited about it.  I'm looking forward to doing the Soul Cake and the play.
4. What are you thinking about the most during the day? 
Whit: That's a really hard one (and if his litany of random questions is representative, I can vouch for this).
Grace: Probably how lucky I am to have a family that loves me and takes care of me.
5. What's on your summer wish list?
Whit: I want to make a lot of friends at camp and become good at swimming and archery.
Grace: To convince Daddy to get a dog.
6. What do you love most about summer?
Whit: I like the extra time away from people who are always crowding me at school.  I love Legoland and swimming.
Grace: Being able to be with my family a lot more, and having extra time to do things.  I love going to Marion with Nana and Poppy and swimming out to the raft.
7. What do you like to do with your brother/sister?
Whit: I like it when Grace plays with me, and sometimes I feel fortunate to have a sibling and sometimes I don't feel that.
Grace: I like it when you're out and I can tuck Whit into bed at night.  I like helping him with homework.
8. What does your brother/sister do that you don't like?
Whit: It annoys me when she rejects playing with me.
Grace: It bugs me a lot when he wants to play with me and I want to just read by myself.
9. If you could travel anywhere right now where would you go?
Whit: Back to Legoland.
Grace: Paris.
10. What book are you reading right now?
Whit: Brixton Brothers #2.
Grace: The Bad Beginning, which is the first in the Lemony Snicket series.