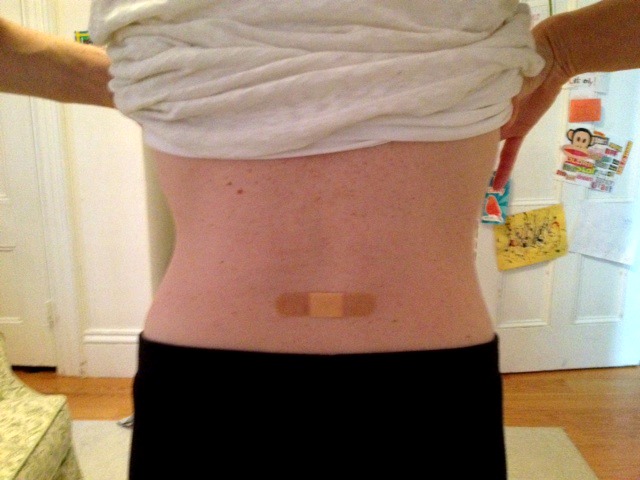 Well, it happened again.  In March 2009, I wrote a post called Fragile in which I talked about facing the world bravely, accepting the fact that "at any moment Grace and Whit could meet with danger."  That same day, Whit wound up in an ambulance and at the ER being treated for his second anaphylactic reaction to nuts.  And in May 2012, I wrote  10 Things I Want My 10 Year Old Daughter to Know, which included, as #2, "don't lose your physical fearlessness."  Two weeks later I was back at the same ER, this time with Grace because she had broken her collarbone.
This time it was my turn.  I was being smug about my own health.  The evening of New Year's Day, at a lovely dinner with Grace and Whit and my parents, I spouted off about how I hadn't been sick in years, how the green juice I drink every day was keeping me healthy.  I leaned back in my chair, pleased with myself.  That was Tuesday night.
By Thursday, I had swollen glands and felt tired.  By Friday, I had a fever of 101 and a crushing headache.  I woke up Saturday morning and could barely move my head because of severe neck pain.  We called my doctor's office.  They said to go immediately to the ER.  When we got there, it didn't take long for them to decided I needed a lumbar puncture to rule out bacterial meningitis.
A spinal tap.  I started to cry.
Matt left the room as instructed and I curled up on my side as I was told.  They tried for 20 minutes to find spinal fluid, poking a needle around in my spine.  I swear I cried and yelled as much during those 20 minutes as I did during labor.  It was painful but, even more, it was a foreign and frightening sensation.  I felt as though icy fish were swimming up and down my spine.  I felt flashes of sharp pain down my legs.  I felt a needle scraping against the bones of my vertebrae.  To say I have new respect for the spine and for the power of nerves, and for the fact that the spinal cord is in fact a cord is an understatement.
Finally they withdrew the needle and told me they had to try again.  I cried some more.   They started over.  This second time was quicker, and they found the fluid.  In 75 minutes we knew that I don't have meningitis.  I still feel lousy, as of this writing (Sunday night), but I'm hugely relieved, of course.   My back hurts a lot at the site of the puncture.  I asked Grace to take the picture above because it seems so extraordinary that all that is left from a long needle in my spine (twice) is this little band-aid.
I can't forget the searing pain of that first attempted lumbar puncture, though.  I don't think I ever will.  And I am reminded, yet again, never, ever to take anything for granted, and never to be so self-satisfied as I was on Tuesday night.  I am still drinking my green juice, though.
Have you ever had a lumbar puncture?  How was it?