A couple of people have asked what specific holiday music I listen to, since I've made several references to my year-round passion for Christmas carols.  I have been accumulating CDs I love over the years and I recently made a playlist of my very favorites, which I happily share at the bottom of this post. The question put Christmas on my mind, though.  Christmas is my favorite holiday.  It always has been.  Much like in the rest of my life, I refuse to over-program the holiday season.  I do my cards and my shopping early.  We say no to a lot.  And, as a result, we can really sink into December, rather than sprint through it.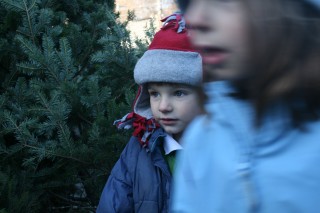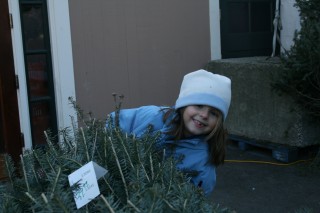 We have some important family rituals around Christmas (I had completely forgotten that I'd written about our traditions already, until I stumbled upon this post in the archives).  One thing I don't do early is buy our Christmas tree: we don't go until the middle of December.  We do go to the same farm every year, as a foursome on a Saturday morning, and the pictures from that outing are always some of my favorites.  Grace and Whit are each allowed to choose one ornament from the overheated greenhouse where you check out, and they look forward to and plan for this choice for months.
We always decorate our tree on a Sunday afternoon, sometimes with a few dear friends or family present (you know you're special to us if you've joined us for this tradition!).  We crank up the carols, drink hot chocolate, and pull out the ornaments, spreading them over the coffee table, and Grace and Whit slowly trim the tree.  Almost every single ornament carries the freight of memory, and I adore the process of lovingly looking over each one.  This is a ritual that was a part of my childhood, and I'm happy to have recreated it with my family.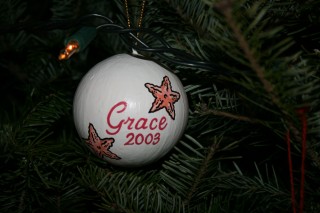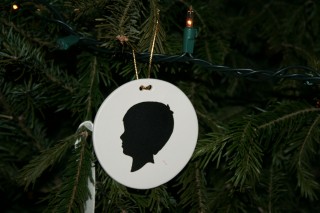 Each year I buy a personalized ornament for each child.  I've done photographs, silhouettes, and initials.  I'd love any ideas for this year's special ornaments.  For the last several years I've found them on etsy.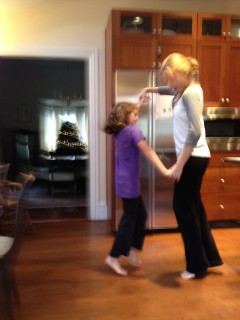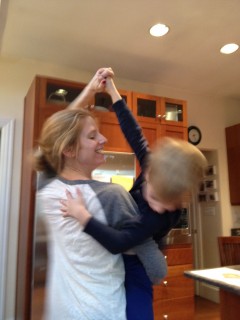 One weekend afternoon in December we always bake and decorate Christmas cookies.  For the last several years we've danced along to carols as they baked: last year it was to The Lower Lights holiday CD.  It's extraordinary to me to witness how easy it is to make a tradition and how important they are to my children.  We just randomly started dancing to carols one Saturday afternoon a few years ago, and now it is so vital a part of our family's year that Grace talks about the "Christmas cookie dance party" all year long.  Attitude is all it takes to imbue the smallest activities with meaning.
Last year we were with my sister in Jerusalem for Christmas, which was a once-in-lifetime experience that none of us will ever forget.  This year, the children have lobbied hard to wake up at home on Christmas morning and I think we'll make that a priority for a while to come.  As is our standard custom, we'll celebrate the Solstice on December 21st, we'll go to our church's Christmas Eve family service (we missed it two years ago because we were in the ER with Whit), and we'll mark the evening of the 24th with fantastic wine and carols around the dinner table at my parents' house with our oldest and dearest friends.
There is so much richness ahead.  I can barely wait. I'm grateful that my bias towards under-committing continues into the holidays, that there are many nights where we sit and look at the lights on the tree, that there is still time to sign along to carols and talk about what different ornaments represent and bring baked goods to friends and write love letters to our grandparents.
And with that, here's the playlist I've got on repeat these days:
Joy to the World – Amy Grant
Angels We Have Heard on High – The Lower Lights
Angels from the Realms of Glory – Annie Lennox
O Come, O Come Emmanuel – Sugarland
Universal Child – Annie Lennox
O Holy Night – Martina McBride
Silent Night – Stevie Nicks
Love Came Down at Christmas – Sean Colvin
The First Noel – David Archuleta
Oh Come All Ye Faithful – Amy Grant
In the Bleak Midwinter – Sarah McLachlan
Auld Lang Syne – Barenaked Ladies
Little Drummer Boy – The Merry Christmas Players
The First Noel – Annie Lennox
Do They Know It's Christmas – The Tributes
Believe – Josh Groban
The Holly and the Ivy – Annie Lennox
River – Sarah McLachlan
O Little Town of Bethlehem – Annie Lennox
O Come All Ye Faithful – Josh Groban & the Mormon Tabernacle Choir
How do you mark this holiday season (whatever your specific celebration)?  Are there any particular traditions that are special to you?  And do you have any ideas for this year's personalized ornaments?