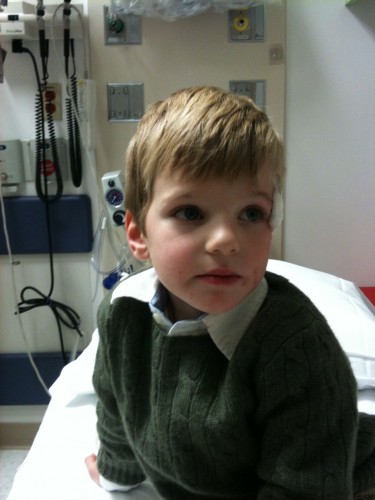 So.  Christmas Eve.  Everybody is dressed, ready to go to church.  This is without question my favorite church service of the year.  I holler, "Coats on, everyone!" and am met, unexpectedly, with a howl of pain from Grace's room.  I amble in, expecting bickering over whose pen is whose or something equally critical.
Instead, Whit is clutching his face, which is bloody.  I pry his hands from his eye, and see that blood is gushing out of a cut.
"Jumping on the bed?" I ask him sternly.  He nods at me, putting his hands back up to the flood of blood.
Instantly I know we're going to the ER.  I wanted to send Matt and Grace to church and just take Whit, someone had to hold the towel to the gushing forehead as we drove, so it turned out we all went.  At Children's I spent a couple of hours with a very nice doctor.  Whit was given some numbing cream, some anti-anxiety medication and then stitched up.  Attentive readers will note that he also spent his very first Christmas Eve at the Children's Hospital ER; he's now averaging 1/3 of his Christmas Eves on earth there.  I think he's fine with his batting average.  I am not.
The trip to the hospital, while costing me my favorite church service of the year, was almost worth it, because of the sheer comedy that Whit provided while on the medication.  He was basically ragingly drunk all night.  I knew he was ready for stitches (ie fully "relaxed") when he turned the TV in the room to a show in Spanish and watched, attentively.  When I asked if he wanted to watch something in English he looked at me as if I was stupid and shook his head fiercely.  He turned to me, mid-stitches, with a guffaw, telling me that this was the most fun Christmas Eve ever.  After we left, en route to my parents, he proclaimed  that "this popsicle rocks!"  I wish I had videotaped him.  And yes, I did ask the doctor if I could have some of what he was having.  She said no.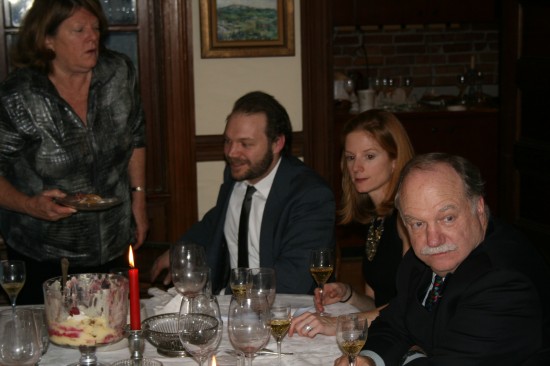 When we arrived at my parents' house for our annual Christmas Eve with our dearest family friends, I was quite ready for a glass of wine.  Fortunately, it was flowing.  As has been the case in recent years, we sang carols after dinner.  I love this tradition.  The blurry picture above is me flanked by my oldest friend-brother, Ethan, and his father (I've written about Ethan's mother's death in 1997. It remains a seminal experience for me).  This is as old as friends get, and I adore being with them.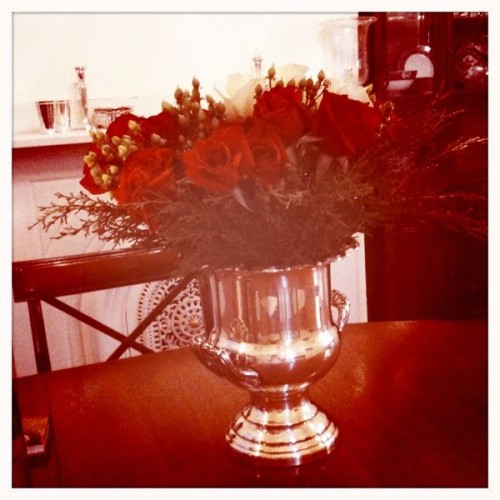 Christmas Day was very mellow.  My parents came over for breakfast and presents, and then Grace, Whit, Matt and I spent the rest of the day together.  We went for a walk, we went to the playground, we played with presents, we read our books.  It was, honestly, quite divine.  As was, in my opinion, my centerpiece (see above).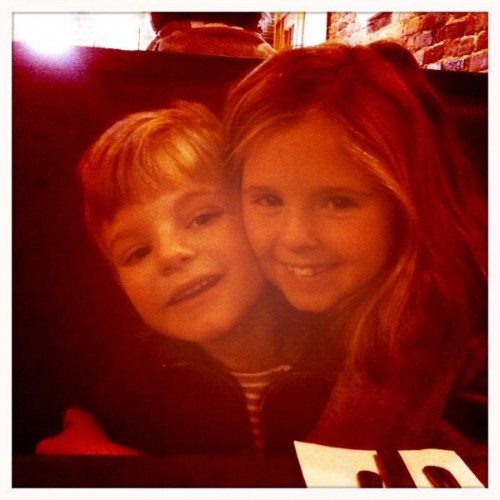 On Boxing Day, the kids and I drove Matt to the airport early (he was headed to Florida to visit his parents) and then spent the day trying to do as many errands as we could before the snow came.  We walked down to a favorite neighborhood restaurant for an early lunch.  By mid afternoon we were watching various movies and snuggling under blankets as the snow began to flutter from the sky.  My parents came over for an early dinner of (leftover) turkey quesadillas.  Another lovely, mellow day.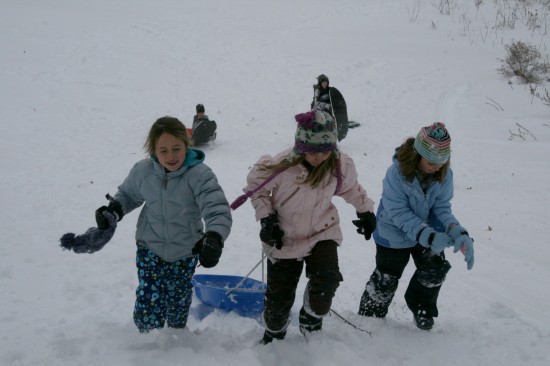 And we woke up to 18 inches of snow.  The kids both popped out of bed at 7:00 on the dot, eager to see how much snow there was.  I shoveled out two cars and all around our house.  And we spent the morning sledding.  It's hard to remain aggravated by the inconveniences of the snow in the face of Grace and Whit's contagiously sparkling wonder about it.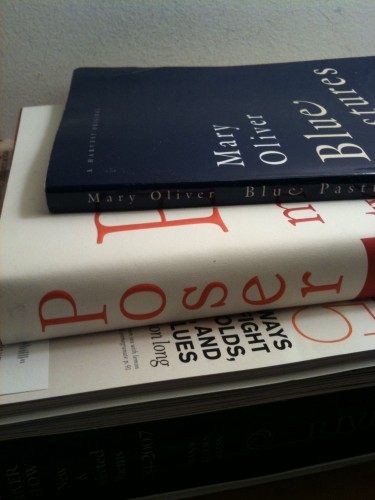 Tonight I am overseeing their writing thank you notes, in my pajamas, drinking wine on the rocks.  Yesterday, Hilary sent me an email with a link to the New York Times review of Poser, by Claire Dederer.  She noted that after reading the review, and thinking that I'd like the book, she saw that Dani Shapiro had written it, so maybe I had heard of it.  I then took this picture of my bedside table to send to her.  What's better than a beloved sister who knows me that well?  Also, the book is great.  Can't wait to crawl into bed with it tonight.