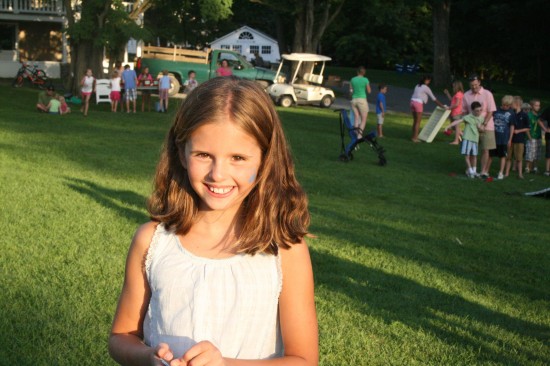 Dear Grace,
Tomorrow you turn ten.  I won't even try to convey my disbelief at this fact.  It's neither secret nor surprise that I'm feeling sentimental right now, absolutely awash in memory.  I can't stop thinking about ten years ago.  Ten years ago, when I was in labor, walking around the red-leafed, sun-dappled streets of our neighborhood, feeling the beginnings of your inexorable descent, riding a tide of fear and anxiety and impatient anticipation.  We had not found out your gender at our ultrasound, but I knew in a bone-deep way that you were a girl.  And how I wanted you, Grace: I hope that is always clear, even when you hear and read (as you will) about the difficult months that followed your arrival.  I wanted you desperately, specifically you, a first-born daughter, a strong-willed and gentle-souled girl to share all of life's adventures with, my Grace, my grace.
This particular moment is almost unbearably golden.  You are so positively, absolutely radiant right now.  You and I often feel like a club of two.  My favorite days are the empty weekend days – rarer now, and I cherish them all the more for that knowledge – when we simply putter.  We walk around the neighborhood, we do errands, we cook, we lie in my bed and read, we talk idly and just as often share a deeply companionable silence.
One day last week you were home sick from school.  I had to work for most of the day, but you propped yourself up against the wall of my (tiny) office and read.  I kept asking you if you'd be more comfortable in your bed, but you said no, no, you just wanted to be close to me.  And so we spent hours within inches of each other.  Around noon you told me you thought you needed some fresh air.  "It really can fix a lot of what's wrong, Mummy," you told me, echoing something I've told you more times than I can count.  And so we set off to the library, and you slipped your hand in mine, and we noticed the bright yellow leaves against the cornflower blue sky and the red ones piled against the sidewalk and I almost cracked in half with contentment and joy.
For me, though, untrammeled joy does not exist.  Every single day is stitched through with my piercing awareness that this time grows short.  I anticipate some rockier years ahead, and the shadow they cast on today is long and dark.  I don't mean to be a pessimist – I know there are adventures and great joys ahead.  But I will miss your hand in mine, and your hug, always with a contented sigh, when I tuck you into bed, and your running up the stairs when you get home from school, crying "Mummy!" as you come to find me in my office.
You love school, which brings me great joy  and doesn't surprise me at all.  You are organized and neat, and you do your homework every single day without my having to remind you.  In fact I rarely even realize you have done it.  You are interested in writing; this summer you completed your first full short story.  You love to read, and enjoy both books that I remember from my childhood (Island of the Blue Dolphins, Little Women and my all-time favorite, A Wrinkle In Time) and titles that are new to me.  You also like Math, and all the time I spent quizzing you on your multiplication tables last spring seems to have worked.  Science and social studies are both of great interest, and I get detailed reports on what you are studying in each.  You love to use your newly neat cursive.  You gladly write thank you notes for gifts and play dates and await with bated breath your own email address, which you will receive tomorrow.  This will be a good chance to practice the subject that has been hardest for you so far: touch typing.
More than your apparent comfort with things academic, though, it is your enormous, evident empathy that impresses me.  You worry about classmates who seem to be struggling, flinch when people raise their voices, and are visibly moved when you encounter those who are clearly struggling (the homeless, the injured, the sick).  You passionately adore animals and your dearest wish is for a dog.  Volunteering is an important value for me, and something we do often as a duo, trio, or all four of us.  You embrace each activity with enthusiasm and are always very interested in who we are serving, and why, and how we could do more to help them.  Never has this been more true than at the project we participated in at a dog shelter.
I absolutely love watching you playing soccer.  You plunged back into practice without hesitation after your season-ending collarbone break in May.  I worried, unnecesarily, you would be nervous and tentative.  That afternoon at the ER, when you were hurting and afraid, is a vivid memory for me.  I lay next to you on the gurney as we waited for the x-ray results to come back.  You pressed your face against my neck, and I could feel your hot tears on my skin.  I stroked your gold-streaked mahogany hair.  You asked about the bones I've broken (numerous) and whether you'd ever break anything again.  I hesitated, then swallowed and said it was possible, probable even.  You sobbed quietly and said you didn't want to hurt like this again.  Blinking back my own tears I told you that I knew the pain was bad, and that there may be other injuries, in sports and in life.  But I promised, promised, promised you that it was always worth it to play.
Your recovery was as fast as the doctor said it would be.  Within a month you were sling-less and pain-free.  Within two you were back on the soccer field and doing cartwheels everywhere.  You still have a small, hard bump on your collarbone, which incidentally matches my own bump from last year's separated shoulder.  Our matching bumps, which show that we've both been broken and recovered.
You love Taylor Swift and Mia Hamm and Hermione Granger.  You've chosen to be an Olympic (gold medalist) soccer player for Halloween.  You love to make things out of Perler beads and out of duct tape.  You drew and wrote me seven birthday cards this year.  You recently instituted a new family tradition, the "compliment pouch:" all week we can put small notes into the pouch thanking someone for a special act, behavior, or kindness.  At Sunday night family dinner you read them, one by one.  You are zealous about working on puzzles, a passionate reader, and a loyal friend.
You are growing into a young woman and I watch this in awe, Grace.  I feel nothing short of wonder when I see who you are becoming.  You are wise and thoughtful, kind and generous, brave and open-minded.  Your heart is big and you want to make those you love happy.  You are my very favorite not-so-little girl in the world.  You make me laugh and you teach me things and you make my heart swell to the point of pain.  All within the same ten minutes, often.  I won't lie to you about my sorrow that 10 years have already flown by.  I would love to have them all back, every single bedtime, every single bubble bath, every single time I've watched you fly across a set of monkey bars, laughing as you go.
We can't have them back, but we can know we lived most of them as fully as possible.  We touched the brass star on the floor in Bethlehem that marks where Jesus was born and we stood at Walden and read Thoreau's famous lines aloud and just last week we experienced an earthquake together for the first time, startled, eyes wide, caught somewhere between panic and astonishment as the earth shifted underneath us.
You are beginning to understand the way that life is mottled with loss.  At Pops' funeral, his bereaved companion Helen reached for your hand for comfort.  You held it for most of the service,  not knowing she would die 6 weeks later.  Their back to back deaths touched you deeply, and I know you are still grieving.  As you and Whit have both noted, you get all of the firsts and he gets all of the lasts.  You are my pioneer, my trailblazer, my firstborn, my only daughter, the person who made me a mother.  You walked with me through an intense darkness and you led me out.  You are my amazing Grace.
I love you, Grace, now, then, always.  Happy tenth birthday.