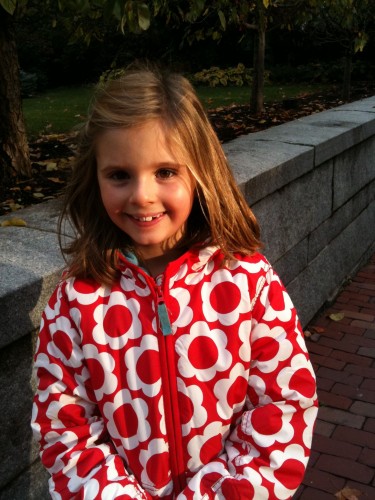 Dear Grace,
Eight years ago you made me a mother.  EIGHT.  How did this happen?  I feel like it was yesterday but also a lifetime ago; I can't remember my life without you in it.  I can't even really remember before you were a full-blown person.  It seems like you have always been one of my very favorite companions, the person who accompanies me more than almost anyone else, with whom I share private jokes, paragraphs communicated through single glances, and commentary from morning to night.
You seem both infinitely older than last year and utterly the same.  You grow ever more liminal, shifting between the ages you have been and will be with grace that is both reassuring and alarming.  Just in the past few weeks you've started to demonstrate the dissonance that I imagine will mark the tween years, with a new moodiness, frustration with me, unwillingness to accept apologies.  Some of this, I know, is just exhaust from the challenges you are having at school, and I promise I am trying to be patient as we work through it.
In general, though, Gracie, you are so good natured, such good company.  We went for a walk yesterday, you and I, seeking some fresh air before dinner and noting as we set out that this was the very last Sunday afternoon that you would ever be seven.  We observed the colors of the wet leaves, bright against the dark sidewalk.  We picked up trash and threw it out.  You stopped to smell roses, literally.  You held my hand happily, comfortably, and we sang some of the songs from Wicked as we walked.  It was an hour I'll treasure.
I know the days of holding hands, of my being (most of the time) your absolute favorite person to spend time with, are numbered.  I know there are more complicated days around the corner, and as I said, I've begun glimpsing their colors on the horizon.  I'm really savoring what we have now, the lingering days of your early childhood, the hand-holding, the fact that you still ask for a kiss on a bumped knee, the way that I can still solve most of the problems you bring to me.
It hurts me as much as it frustrates you, believe me, that there are hurts I can't fix.  The situation with your friends, the complications you have stumbled onto, for example: I just can't make that go away for you.  Welcome, dear girl, to the world of tricky relationships, deep feelings, and unwitting hurts.  Sometimes I wish I could keep you protected, forever, from these kinds of wounds, these kinds of sadnesses.  But I know I can't, even if I did really want to, which I'm not sure I actually would, because I know how much brilliance and joy there is in the world, alongside the loss and pain.  I want instead to teach you that powerful emotions, while scary, won't destroy you.  They will, in fact, teach you, push you, help you grow.  And I want to show you, by word and deed, that all we can do is welcome what comes, from within and without, and try our best to accept it.
Your primary passion right now is reading, though you also love math and computers and science.  This past winter you had mono, so you and I spent more than one weekend ensconced next to each other in bed reading side by side while Dad and Whit went skiing.  It was pretty dreamy.  Another thing we have been doing lately is circling a local reservoir, you biking while I run, chatting all the way.  You're enthusiastic about traditions and adventures, and you named our recent after-dinner walks the Notice Things Walks.  It is you who says grace before dinner, you who taught me about the kissing hand, so that I never have to be alone, even when you're away from me.
You love your brother dearly, other than when he's whomping you over the head with a sword.  Listening to the two of you together is one of the central joys of my life; my favorite is overhearing you talking to each other through the heating vent when you are in your respective rooms.
You wrote all of your birthday thank you notes yesterday, and I was delighted to see that you wrote your name on the back flap of each envelope, without any prodding from me: Grace Eldredge Russell.  I love that you used your middle name, an acknowledgment of the strong matrilineage you and I are both privileged to claim as ours.  You are blessed with four active, adoring grandparents, and for that I'm immensely grateful.  I can't help wishing my grandmothers had had a chance to know you, Grace.  They were forces of nature, both, and I know they would be proud of you.
I tucked you in tonight, for the last time as a seven year old.  Your bed is crowded with stuffed animals, and I'm forever trying to demote some of them to the drawers under your bed, but you keep bringing them back up.  You have a new Pillow Pet that you love, though you told me last night, eyes shining, that nobody will ever replace your most treasured animals, Brown Bear and Yellow Bear, whom you've slept with since birth. Most nights when I go in to see you before I go to sleep those bears' little threadbare noses tucked right under your chin, clutched to your chest tightly as you sleep.
As the lullabye CD that you've listened to at bedtime for eight years played, I sat in the darkness and rubbed your back.  Your eyes fluttered shut and mine filled with tears.  The song Blackbird began, the notes of which bring me back more viscerally than anything else to the early days of your babyhood.  I thought about the dark night, eight years ago, when you and I struggled together to bring you into the world; that night feels remote and close at the same time.
There are rocky passages behind us, Gracie, and I know there are more ahead.  I hope we can always draw on the well of this time, this golden moment, this era of Legoland and Storyland and singing along to Top 40 in the car and secret handshakes and reading Harry Potter aloud before bed, your head in the curve of my shoulder.  May we always remember these hours when you still slipped your hand automatically and un-selfconsciously into mine, these weeks when the world unfolded so gloriously that your eyes widened every morning in awe.  These are the days of miracle and wonder, indeed.  May they last a while longer still.
I love you, Gracie.  Happy birthday.