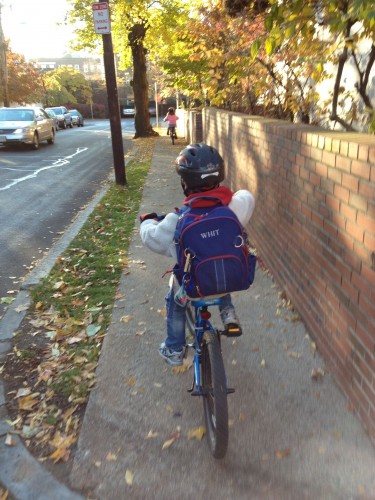 Last week we biked to school.  Grace had her 9 year checkup so wasn't going to stay at school.  I ran alongside them on the way there and was reminded of how close we live to school.  Then Grace and I took the bikes home (me riding Whit's bike: major thigh work out.  Good GOD.).  Whit was so thrilled about this adventure that he put his helmet on before his pants that morning, and talked about it all week long.  I'm so proud that my son is still delighted by such little wonders.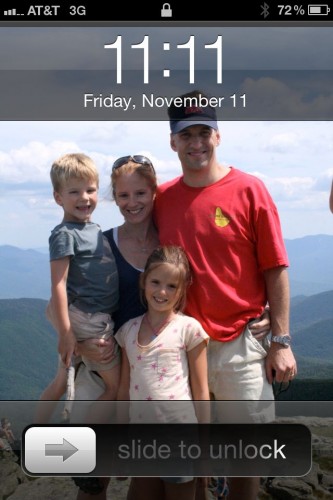 On Friday, 11/11/11, Whit and I sat in the kitchen and watched the various digital clocks tick towards 11:11.  This screen shot was the closest I could get to capturing the moment because the clocks didn't display the date.  I know, I know – it is an entirely artificial construct, this 11:11 on 11/11/11 thing.  Nonetheless, we both anticipated the moment and shared it with a quiet seriousness that verged on reverence.  Celebrating another little wonder.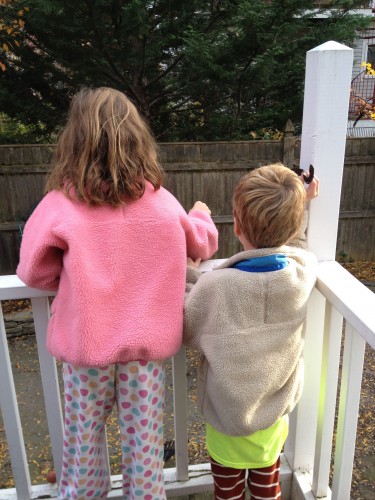 On Sunday we raked leaves.  Our "yard" is small, so this takes about 20 minutes.  Grace and Whit put patagonias over their pajamas and spent long moments trying to throw the pods that a neighbor's tree sheds from the porch into the big yard waste bag.  Then we all fell into silence when a familiar cardinal arrived, perched on our fence, looked around.  They watched him, awed, quiet, admiring a little wonder.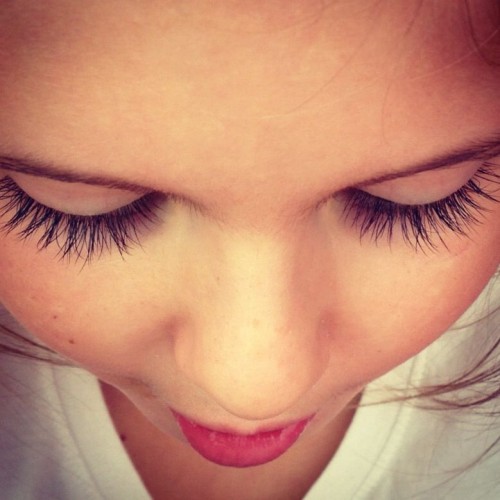 On Sunday Grace and I had what may well have been our last lunch at the American Girl store.  She's still playing with her American Girls, but I know the days of imaginative play with Julie and Samantha are numbered.  All of her friends have already moved on.  I tried not to dwell on the last-ness of our lunch, but it was hard.  As she looked down at the menu, I snapped this picture.  I love it.  My mother's childhood nickname for me echoes in my mind as I look at this picture, pressing itself into my lips.  It's what I want to call Grace.  Mum always called me her little wonder.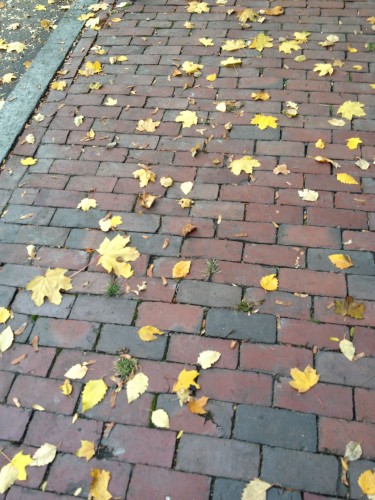 Am I the only person who finds the very pavement a bewitching, beguiling, constantly changing poem?  I can't stop looking down.  Well, that is, when I'm not looking up (aside: maybe it's no wonder I trip more often than the average non-toddler.  I'm simply so absorbed in life around me that I don't pay attention to my footing.  Surely there's a metaphor here…) Everywhere I step I'm walking on color, on pattern, on message and beauty.  Little wonders, all around.