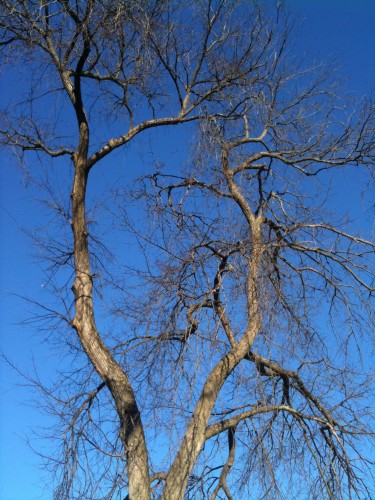 I believe in God, only I spell it Nature – Frank Lloyd Wright
It's no secret that I ache to believe in God.  The truth is I ache to believe in something.  What's also true is that slowly, with almost infinitessimal steps, I'm finding myself doing so, in my own way: beginning to trust in the vast design, to believe that I can let go, to trust.
I see this shaky but growing belief, most of all, in the sky.  I recently paged through my zillions of photographs and realized how awfully many I take of the sky.  I simply adore the sky and am often moved to photograph it.  Though, of course, no photograph can capture the sky.  The assortment of clouds, the searing gorgeousness of a clear cornflower blue sky, the subtle depths of a vista of changing grays.  I take pictures looking up at the sky, mostly, and once in a while I take a picture out of an airplane window looking down at it.
In particular this winter I have been downright obsessed with the beauty in the way black winter branches net the often steel-gray sky.  I see poetry in the patterns that the bare branches, often ice-slicked, make against the winter sky.  I have dozens and dozens of photographs of different designs like this, and my children have taken to mocking me when I stop, stock-still, in the middle of going somewhere, often in the middle of the street, and fumble for my iPhone.
I'm realizing that my preoccupation with time and its passage informs this close observation of nature and the sky.  The changing quality of light as we move through the seasons speaks of the earth's ceaseless rotation.  The sky's meaning is found in its simultaneous permanence and momentary-ness and in the subtle, complex shifts in its light.  There is a tree outside my window, about which I've written before, and this winter many mornings I was stunned into a brief moment of silence by the light on its barren branches.  I tried and I tried and I tried to capture it, usually to no avail.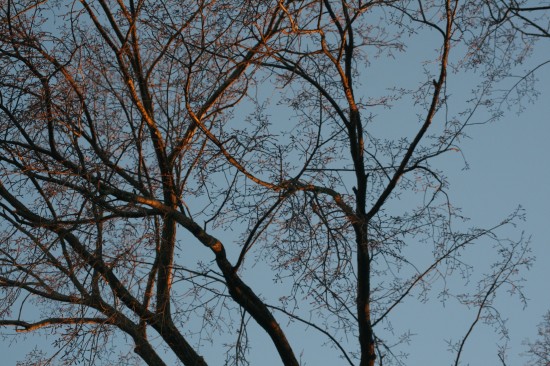 The seasons turn, the light changes, the branches swell with life and then burst into flower and then drop their leaves again.  Just like I like Walden Pond most during the barren months, I am most drawn to winter's vistas and landscapes.  And it's winter's skies that I find the most beautiful.  Somewhere, in those erratic patterns of black against blue, I see … what?  Something.  God.  Something I can believe in, lean into.  I sense the vast design for which this blog is named.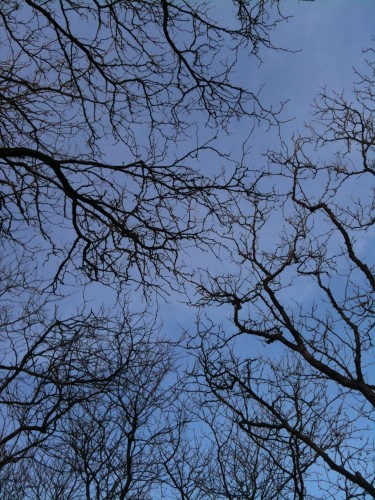 There is no such thing as a complete lack of order, only a design so vast it appears unrepetitive up close.
– Louise Erdrich (The Bingo Palace)