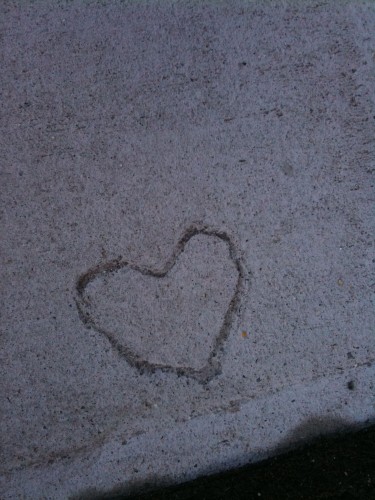 I often find words – lyrics, snatches of poems, quotes – rising to my thoughts, unbidden.  There's also an external component – songs that come on the radio seemingly all the time, a book I keep reading about, etc.  In both cases, I think that these messages are real, from our subconcious or the universe or both.  I believe they are not at all a coincidence.
In the last several weeks, I've encountered Naomi Shihab Nye's beautiful poem, Kindness over and over again.  I read it in Oprah's magazine and wrote about it, I saw it somewhere else, it appeared today in my Google Reader.  The twinning of kindness and sadness, and the assertion that the latter is critical to fully appreciate and comprehend the former, very much resonates with me.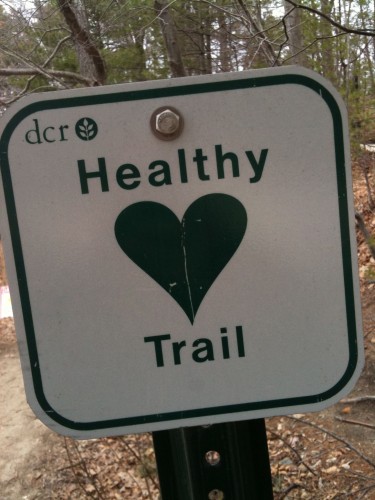 This past summer, every single time I turned on the radio it seemed like the Beatles were singing Let It Be.  Okay, I murmured to myself, okay, I hear it: I will try to let go.  I will try to trust.  Last summer – radiant, full of joy and wonder – was a time of major transition for me, and I definitely needed every reminder to let it be.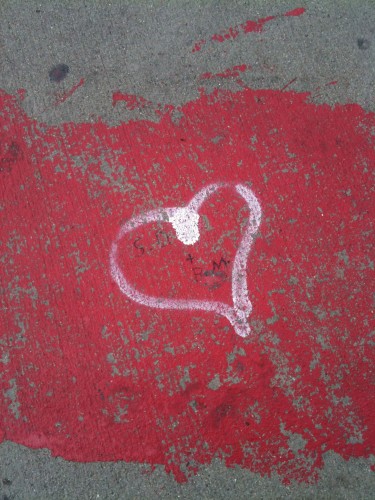 When I was pregnant with Grace, a pregnancy which surprised me and which began the unravelling and change that brought me here, I found pennies on the ground all the time.  Literally, probably six out of seven days a week.  For weeks and weeks.  I picked them all up – of course, to get the luck – and I wish I'd collected them.  For a while, in fact, my dear friend Courtney referred to Grace as my "lucky penny baby."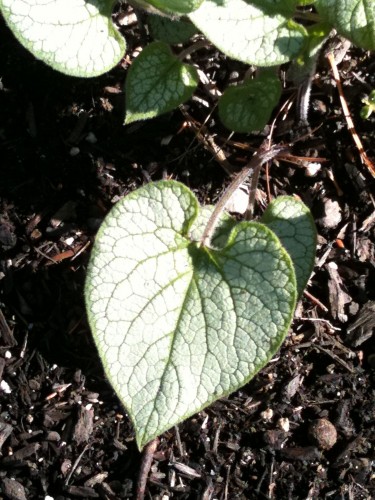 And right now, everywhere I turn, I see hearts.  I see them in the pavement, in leaves, on signs.  I've photographed some but not all of the hearts that have stopped me in my tracks recently.  What's interesting is that some of these are not newly in my path.  For example, the heart traced into the pavement is right outside the post office I've been going to for years.  And obviously it is not new, since it was drawn in the wet concrete.  And yet it's only now that I'm noticing it.  Coincidence?  I don't believe so.  What are these hearts telling me?  Be aware of my heart, be careful of my heart, surrender when it swells to the point of discomfort?  Love is all around.
What message is the universe sending you these days?