I read Laura Munson's memoir, This Is Not the Story You Think It Is: A Season of Unlikely Happiness, over the summer, and adored it.  The book grew out of  Laura's summer 2009 Modern Love column, which I remember reading with interest.  This Is Not the Story You Think It Is begins with Munson's husband of many years coming home and telling her he's not sure he loves her anymore.   Instead of responding with anger or throwing him out, Munson simply responds, "I don't buy it."  She commences a period of steadfast patience.  She is certain that her husband's wavering has to do with him, and not her, and she is committed to waiting him out while he works through his crisis.
Munson's memoir traces the months of this season, during which she waits, determined to save her marriage by demonstrating her deep commitment to it and to her husband.  This commitment takes the form of space, tolerance, and tremendous faith.  She chooses not to give in to the urge for drama, not to hurl accusations.  This is challenging beyond measure, and of course there are moments she loses her cool.  On the whole, though This Is Not the Story You Think It Is showcases the power of devotion and what can happen when we remember to put the prize we seek above our moment-to-moment personal needs.
Beyond being a story about marriage and midlife, though, This Is Not the Story You Think It Is is about becoming the source of one's own joy.  It is about shifting the power over our own moods back to ourselves.  It is about the things that are possible when we fully commit to something, even when that effort is difficult and draining.
Munson talks about the teetering stack of books on her bedside table, many of which are about spirituality, peace, self-help.  She has been a lifelong seeker, she tells us, but it is not until this moment, with her marriage in crisis and fault lines running through a foundation she assumed was stable, that she really starts to understand what she has been seeking.
"But," I whimpered, "I'm in a spiritual cul-de-sac. I don't know how not to want. I'm very, very attached. Not in the least Zen. More . . . I don't know . . . Episcopalian."
It's not simple, this letting go of how she imagined her marriage would be, this strident attempt to … not attempt so much.  Of course Munson falters.  She is funny and wise, humane and deeply human as she relates the ups and downs of her waiting season (an aside: like Munson, I'm an Episcopalian, very, very attached, and a lifelong seeker).
Munson wrote This Is Not the Story You Think It Is from the white-hot center of the experience; not for her was the advice to get a healthy remove from an emotional moment before writing about it.  No, she wrote in real time, as she lived through her summer of waiting, her weeks of doubt, her moments of surprising peace.  As she moves through time, she grows more and more clear about the process she is engaged in, which proves to go far beyond the situation with her husband.
"It's about not taking things personally. Even when you feel the world is crumbling around you. It's about choosing happiness over suffering. It's about retraining the way we think."
Of course, this is no small achievement; it might be the goal of a lifetime.  At least for me.  Many things go into choosing happiness; among the most important is learning to appreciate that which is right in front of you.  When Munson dives into what it means to not choose suffering, she hints at some of the nuances of her ordinary life, and suggests that it is in the embrace of these things that freedom, and joy, can come.
"Suffering sucks. Don't do it. Go home and love your wife. Go home and love yourself. Go home and base your happiness on one thing and one thing only: freedom. Choose freedom, not suffering. Create a life of freedom, not wanting. Have some really good coffee and listen to the red-winged blackbirds in the marsh."
I'm so glad to have found Laura Munson's words, in both her book and in her blog, These Here Hills.  She writes for the Huffington Post, the New York Times (her recent Lives column, about a mother and her growing-so-fast daughter, made me cry), and on her blog.  Go read her words now – you won't regret it.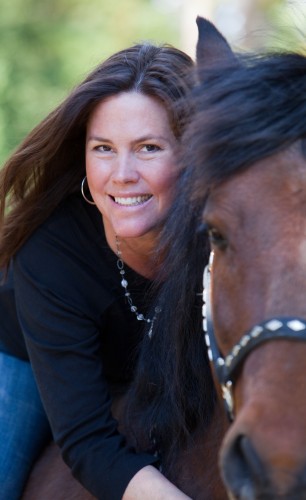 1. When have you felt most present?  Are there specific memories that stand out for you?
Giving birth to my children, writing books, riding horses.  All three of these things require us to be in the present moment.  Like no other experiences I've known, they warn of the dangers of the mind.  Of engaging fear.  Of not being present.  All require a loosening, an opening and letting go; non-resistance.  Receiving what is…the illusions of the past and the future melting away.
2. Do you have rituals or patterns that you use to remind you to Be Here Now?
I have a very busy mind.  So in order to quiet it, I need easy, broken down methods.  So it's three deep breaths when my mind is a-whirl.  Or it's saying a prayer that I memorized as a child in time to those three breaths.  Or a heart shaped rock I hold in my hand to take pause—I collect them and keep them all over my house.  It's silent and it's simple.  And mostly it's about identifying those destructive thoughts we all have, and loving them into submission.  I used to think we needed to hunt them down and make them die violent deaths.  Now I realize that when we're doing that, we're at war with ourselves because we've created those voices.  They're of us.  So to love them like a scared child works much better for me.
3. Do you have specific places or people that you associate with being particularly present?  Who?  Where?  Any idea why?
The woman who I ride horses with is the most present human being I've ever met.  She has had a hard life and you never hear her complain and you rarely hear her speak about yesterday or tomorrow.  It's "look at the immature eagle," or "that mama doe has a new fawn hiding in that field," or "that's a mountain lion den" or "aren't the larch trees stunning this year?"  We may get into conversation, but she is always keenly aware of what is happening around her and with her horse.  It keeps her calm and it keeps her safe.  I have worked with this woman for ten years and more than anything else, I've learned how to clean my mind and be present, all from our travels by horse in the woods of Montana.
4. Have you ever meditated?  How did that go?
Writing is my meditation.  It's my practice.  It's my daily prayer.  I have always been a seeker from a very early age.  And I've always had a rich prayer life.  My prayers have become lean.  More like little casts into a slow-moving stream—a few words.  Thanks.  Help.  Yes. I find great solace and inspiration in reading the work of the mystics from most religions who are all about love and the freedom of the present moment.  And yes, I have meditated in the sense of repeating a phrase in my mind in a deliberate way in a quiet place.  But for me a walk in the woods is the best meditation.  I always come back feeling clean-slated.
5. Has having children changed how you think about the effort to be present?
I try to teach them to be aware in the moment.  That all the suffering comes in our attachment to the illusion of past and future.  To own what they can own and then let go of the rest.  I try to teach them the freedom that comes from that awareness.  I'm a student and a teacher then, I guess.  When there are people you love and you see them suffering and you feel you have ideas and practices that pull people out of suffering, it's easy to go into teacher mode, but I find that it's much more effective to simply practice more than preach.
6. And just cause I'm curious, what books and songs do you love?
Jim Harrison is my favorite writer.  I love all of his work, and especially his poetry.  I love the book THE BROTHERS K by David James Duncan.  e.e. cummings and Rilke and Rumi and Neruda.  Salinger, especially FRANNY AND ZOOEY.  Truman Capote's A CHRISTMAS MEMORY.  Annie Dillard.  And music…well…I love Bach.  I love the Durufle Requiem.  And old timey folk tunes.  My musical taste is all over the map.  From Puccini to Joni Mitchell to James Taylor to Ella Fitzgerald to The Velvet Underground to the Grateful Dead to the Violent Femmes.  Dixieland jazz.  Big Band music.  Depends on the weather.  The song I play on the piano, its lyrics appearing in my high school year book senior page, is CORNER OF THE SKY from the Broadway musical, Pippin, so there you have it.