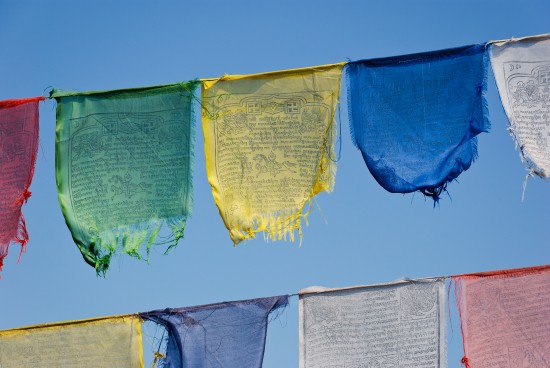 When I'm at home I almost always run the same loop.  A creature of habit through and through, I am.  The route takes me past the used bookstore that I used to go to as a kid with my sister and father, past a kid-friendly restaurant where I ate when both of my children were small, and past a front porch festooned with prayer flags.
It's those prayer flags that are on my mind today.  They are tattered from from being whipped around by the wind, bleached out from the sun and rain.  Yet every day they recommit to the same task, snapping around according to the wind's whimsy.  Even with their faded, worn-out fabric they continue to transmit their hopes, their prayers, to the world.
I feel similarly buffeted by the wind, likewise faded from the elements.  It's been, as I've written, a summer full of wind and sunshine, memories and joyful moments, but also one that has bruised my heart and made me feel tired in a bone-deep way.  The reasons are personal and I'm aware of and sorry for being a broken record.
Still, the prayer flags snap away as their edges fray and their colors fade.  I'm not sure I have the same conviction about my prayers and hopes as do those small squares of colorful fabric, though I wish I did.   I picture them in my mind's eye, take a deep breath, try to inflate my exhausted heart, and steel myself for more winds ahead.  May I keep waving.