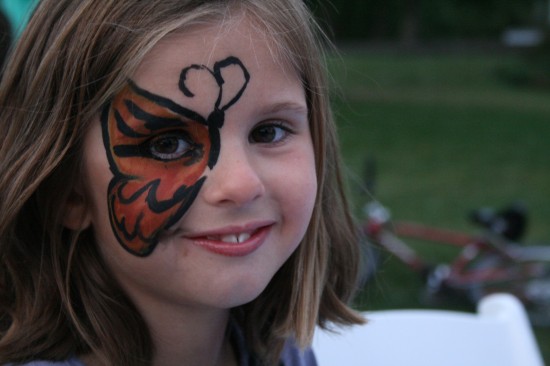 We are at the Basin Harbor Club in Vermont. This is a marvelous place for families, totally oriented towards kids. Tonight was a barbecue with all kinds of activities for the children – bouncy castle, face painting, games, prizes, hayrides, etc. Towards the end of the evening, Grace came running across the field towards me, eyes streaming, visibly crying. I was talking to a friend who coincidentally is here too, standing with her 2 year old.
"What's wrong, Gracie?" I asked.
"Whit threw the sticker I gave him on the ground!" she sobbed, hiccuping between words. The story, as I gathered it from her broken and interrupted telling, was that she had selected a sticker for Whit for her prize and he'd rejected it. She bawled that she would have chosen something else if she knew he was going to throw it on the ground.
"Hey, Grace, what if you gave the sticker to Bodhi?" I nodded towards the 2 year old, who was watching Grace, transfixed.
She immediately stilled. Considered the idea. She shrugged and proffered the Star Wars sticker to the little guy, who took it from her hand with a huge smile. He leaned in towards her shoulder and kissed it. "Fank you, Gwace," he murmured.
I thanked my friend, grateful for the kindness of her son. Grace tugged at my hand, face paint streaked with tears, dragging me towards the ice cream line. My friend and her son came with us, and introduced us to her father, standing behind us. They then drifted away. As Grace and I stood in line, her tears came again. She reiterated that Whit had hurt her feelings.
"Grace, there are going to be a lot of hurt feelings in your life." she looked at me, chin trembling. "I can only promise you this: most people don't mean to hurt your feelings. Remember that," I wiped a tear away from her cheek, coming away with black and orange paint on my finger.
"And there will be lots and lots of wonderful feelings too," chimed in my friend's dad with a rueful smile. "Lots."
Yes, there will, Gracie girl. Lots of hurt and tons more joy.
And lighten up, Lindsey!