Today I am thrilled to bring you Present Tense with Gretchen Rubin, author of the #1 New York Times bestselling book, The Happiness Project.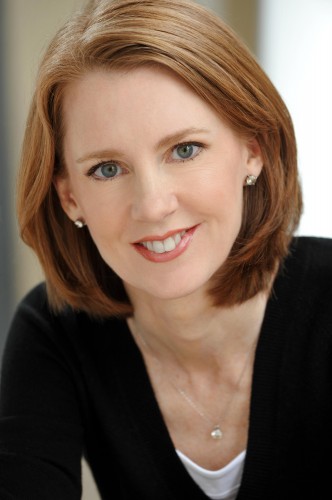 Gretchen really needs no introduction. But, as you can see, she is a redhead. Which makes her automatically dear to my heart. Seriously, though, it is my honor to have Gretchen respond to my inquiry and engage in these questions. I've long been a loyal reader of her blog, I read and enjoyed The Happiness Project, and I was happy to hear Gretchen read and talk in Boston a few weeks ago. Many things about Gretchen's story and message both impress and touch me, but it wasn't until I saw this video that she made that I realized, with that thunderstruck sense of oh-of-course, that this was all, in its own way, about being present. I had heard the adage "the days are long, but the years are short" before, but Gretchen emphasizes it and makes it real in a newly visceral way for me. In her words: this mundane moment is life.
Gretchen's basic premise, of realizing her life was richly blessed but still wanting to make a conscious effort to be happier within it, resonates powerfully with me. I also find her basically pragmatic approach really compelling – she makes changes which feel big within the context of a reality she knows she is not going to materially change. I think this is part of what has made her book such a success: she makes the desire to be happier concrete, and this makes it feel tangible, reachable.
The book is definitely worth reading, as is her blog, which is chock-full of fascinating quotes from a dazzling range of sources, always-interesting links, and thoughtful suggestions. It only took a few chapters for me to be inspired to take 10 bags of books and stuff to Goodwill, and to clear not just one but two empty shelves of my own.
The book has stayed with me after I finished it, too, which is in my mind the true mark of an important work. I took from The Happiness Project specific, actionable suggestions of choices I can make daily to make myself happier. But, perhaps more lingeringly, the book impressed on me a few ways of thinking about the world and how we live in it. Two examples are the distinction Gretchen draws between moderators and abstainers (this insight was really new to me and deeply true) and the sense of sadness she articulates as part of following her #1 rule: "Be Gretchen." She speaks articulately and powerfully about the fact that to accept ourselves as we truly are (which she asserts, compellingly, is the first step towards any real happiness) we must accept all of the things we are not. This is not without sorrow, and Gretchen treads this line gently, acknowledging this loss without becoming gloomy over it.
And without further ado, here are Gretchen's thoughts on presence:
1.
When have you felt most present? Are there specific memories that stand out for you?
Every once in a while, in my work or while I'm walking, I'll have a big epiphany. I've probably had about 15 of these big realizations in my life. Each one stands out clearly in my mind, and I love thinking back on them. Because of this, I try to walk and ride public transportation without distracting myself from my thoughts in any way. I might miss something important!
2.
Do you have rituals or patterns that you use to remind you to Be Here Now?
Whenever I sit down at the computer, I think, "How grateful I am for my ordinary day. How happy I am to be sitting at my computer, doing the work I love."
3. Do you have specific places or people that you associate with being particularly present? Who? Where? Any idea why?
I love being home. I'm a real homebody. I also love visiting my parents. I'm in three reading groups, and I always love being with those people and talking about books.
4. Have you ever meditated? How did that go?
Never meditated. Just couldn't work up the interest for it.
5. Has having children changed how you think about the effort to be present?
I want to appreciate the moment. The days are long, but the years are short – so I try to remember that THESE are the "good old days" and not take them for granted.
6. And just cause I'm curious, what books and songs do you love?
I'm not much of a music person. Books – where can I start? I love fiction, non-fiction, biography, memoir, children's and young adult literature … I'm a book nut!
***********
I think my favorite thing about Gretchen's approach to being present is her firm belief that by active commitment to the goal of consciousness we can improve ourselves on that dimension. This is inspiring to me and, I imagine, to many others. We can identify some concrete choices, make them, stick to them, and things will improve. I like this because it is so much more actionable, and approachable, than my impression of much of the previous writing about happiness.
The do-er and the list-maker in me very much responds to this philosophy, which I see played out in these answers. Gretchen has had epiphanies while walking or (famously) riding the bus. So, commit to not being distracted when in those modes, to maximize the chances of inspiration coming again. That makes sense and sounds simple, but of course it is not: it is an active choice, that Gretchen makes daily, to invite reflection and thoughtfulness into her life.
The answer about staying home is imbued with other writing of Gretchen's about accepting herself for who she is. About Being Gretchen. As I wrote before, doing this has loss contained in it, since we must acknowledge all of the things we are not. But as Gretchen writes of liking being at home, I am reminded of the same instinct in myself, and also of the tremendous friction I feel between my desire to stay home and the pressure I feel to Be More Social. I can then hear Gretchen's voice in my head saying: Be Lindsey. And she would encourage me, I imagine, to accept my deepest instincts and to accept the things that this means I am not. And to embrace my predisposition towards quiet and books and homebodiness – as I sense that she has.
Gretchen, thank you for your wise words, your inspiring example, your generosity with your time and your spirit. You are a shining role model of a writer and of a woman – thank you, thank you.